Republicans are muted on whether Sen. Al Franken should resign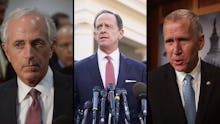 WASHINGTON — After a sixth woman accused Sen. Al Franken (D-Minn.) on Wednesday of groping her, Senate Democrats hit a tipping point. At least a dozen Democrats, many of whom are women, have called for Franken to resign.
The response from Republicans, however, is far more muted.
When asked by Mic on Wednesday, Republican senators repeatedly declined to offer their thoughts on whether Franken should resign. Several said it was an issue for Democrats to resolve.
"How [Democrats] police it, that's an internal issue for them to deal with," Sen. Bob Corker (R-Tenn.) said.
The responses show how the consequences attached to multiple allegations of sexual harassment and sexual assault has become a partisan issue on Capitol Hill. Until Wednesday, Republicans were in step with Democrats who said Franken's case should be referred to the Senate Ethics Committee.
Franken's office said Wednesday he will make an announcement on Thursday about his future.
Sexual harassment allegations have gripped Capitol Hill lawmakers in both parties in recent weeks. Rep. John Conyers (D-Mich.) stepped down from his House seat Tuesday. Other Democrats have called for Rep. Ruben Kihuen (D-Nev.) to do the same after allegations of sexual harassment during his congressional campaign surfaced, although Kihuen said he won't resign.
Rep. Blake Farenthold (R-Texas) has also come under criticism after a woman claimed the congressman destroyed her career after she accused him of sexual harassment.
Some GOP senators referred Mic to that ongoing investigation — which the committee confirmed Thursday was underway — and others declined to weigh in at all.
"I do believe, similar to the allegations on Mr. Moore, Mr. Franken has some serious allegations against him," Sen. Thom Tillis (R-N.C.) said. "All that needs to be born out in the ethics review. And if these [allegations] are proven to be accurate, he should resign."
Some Republicans declined to comment on Franken, as they also have on Roy Moore, the Alabama Republican Senate candidate who has been accused of sexual misconduct by nine women. Some of the allegations have come from women who said Moore harassed or assaulted them when they were minors.
Republican senators have kept their distance from Moore as President Donald Trump — another Republican facing multiple allegations of sexual assault and harassment — formally endorsed the candidate; in response, the Republican National Committee announced it would financially back Moore once again.
Sen. Richard Shelby (R-Ala.) acknowledged to Mic the awkward dance by declining to weigh in on Franken and repeating his oft-used talking point about not having voted for Moore on his absentee ballot.
"I hadn't focused on that," Shelby said of Franken. "We're kind of watching what's going on in Alabama right now."
Some Republicans did take an opportunity to call for Franken to step down. Others came close. Sens. Susan Collins (R-Maine) and Lisa Murkowski (R-Alaska) both declined to speak with reporters as they came to the Senate on Wednesday morning. But Collins later put out a statement calling for Franken to resign.
"My position would be that I thought his responses were inadequate and I think he should step aside," Sen. Deborah Fischer (R-Neb.) said.
Sen. Steve Daines (R-Mont.) said the demands for resignation from women in the Senate "sent a pretty strong message," though he stopped short of also calling for Franken to step down.
Sens. David Perdue (R-Ga.) and Mike Rounds (R-S.D.) declined to comment; while Sen. Pat Toomey (R-Penn.), who said he hadn't followed the latest news closely enough, referred the matter back to the Senate Ethics Committee.
"The senator will have to decide for himself," Sen. John Barrasso (R-Wyo.), who serves on the Republican leadership team as chairman of the Senate Republican Policy Committee, said of Franken. "I saw in the news today that a number of his Democrat colleagues have suggested that he [step down]."