Report: Jeffrey Tambor hasn't yet quit 'Transparent' after all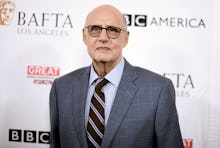 In November, Transparent lead actor Jeffrey Tambor responded to several allegations of sexual misconduct on set by releasing a statement that seemed to suggest he was not returning for the show's upcoming fifth season. A new report from the New York Times, however, indicates that Tambor's future on Transparent has yet to be finalized one way or another.
"Mr. Tambor was widely believed to be leaving Transparent after he issued a statement saying, 'I don't see how I can return,'" the Times wrote on Wednesday. "Yet a representative for the actor disclosed to the Times recently that, in fact, Mr. Tambor had no plans to quit."
Several current and former co-workers of the 73-year-old actor have leveled allegations of sexual misconduct against him, including Van Barnes, a former assistant; Trace Lysette, who plays Shea on Transparent; and Tamara Delbridge, a makeup artist.
In Tambor's aforementioned statement, in which he said he didn't "see how [he] could return to Transparent," he also denied Lysette's and Barnes' allegations against him, calling them "simply and utterly untrue."
Delbridge's allegations surfaced after Tambor released his statement; responding to those allegations, Tambor wrote in an email to Refinery29, "I have absolutely no recollection of anything like this incident ever happening. If it did, it wasn't meant as anything more than an enthusiastic farewell and gratitude for a job well done at the end of a shoot. However, I am deeply sorry for any discomfort or offense I may have inadvertently caused her."
Amazon's investigation into the claims against Tambor is ongoing.