If Al Franken resigns, what will happen with his Senate seat?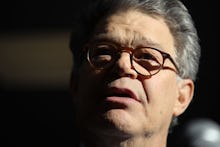 Sen. Al Franken (D-Minn.) — who has for weeks been beset by accusations of sexual misconduct — may be on the cusp of resigning from his post as a wave of his Democratic colleagues Wednesday called on him to step down.
More than 20 Democratic Senators, along with Democratic National Committee chairman Tom Perez, called for Franken's resignation Wednesday after a seventh woman accused the Minnesota Democrat of sexual misconduct, saying he attempted to forcibly kiss her at a radio show taping in 2006.
Franken, who had been one of the most popular Democrats on Capitol Hill, denied the allegation, but said that he would be making an "announcement" on Thursday.
Sen. Amy Klobuchar (D-Minn.) implied in a statement Wednesday that Franken would heed his colleagues' calls to resign, which would make him the second Democrat this week to leave amid alleged sexual misconduct. Rep. John Conyers (D-Mich.) resigned Tuesday following a wave of sexual harassment allegations.
"Sexual harassment is unacceptable," Klobuchar tweeted. "This morning I spoke with Senator Franken and, as you know, he will be making an announcement about his future tomorrow morning. I am confident he will make the right decision."
What happens if Franken resigns?
If Franken does resign, Minnesota Gov. Mark Dayton — a Democrat — would be in charge of appointing a replacement in the short term.
A special election would then be held in 2018 to fill the vacated seat until 2020, when Franken would have come up for reelection.
Democrats would therefore likely maintain control of the seat.
His resignation would also represent a stunning downfall for the popular liberal, who had been regarded as a rising star in the Democratic party and even a possible presidential candidate in 2020.
But he has posed a political problem for Democrats, who have hammered Republicans over their continued support for accused child molester Roy Moore in the Alabama Senate race, ever since radio host Leeann Tweeden alleged in November that he forcibly kissed her and later fondled her while she slept.
Franken said at the time he would work on "making it up" to the women he let down rather than resigning, but said he supported an ethics review into his conduct.
But as more women have come forward with allegations of misconduct against the senator, Democrats have come under intense pressure to hold him accountable.
The new allegations against him Wednesday seemed to be the final straw for Democrats, who steadily pulled their support from him throughout the day.
"While Senator Franken is entitled to have the Ethics Committee conclude its review, I believe it would be better for our country if he sent a clear message that any kind of mistreatment of women in our society isn't acceptable by stepping aside to let someone else serve," Sen. Kirsten Gillibrand (D-N.Y) wrote on Facebook Wednesday. "At this moment, we need to speak hard truths or lose our chance to make lasting change."