House passes bill to expand where people can carry a concealed weapon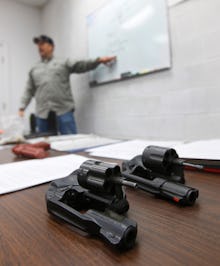 The House of Representatives on Wednesday passed a measure that would expand the number of places where people can carry a concealed weapon.
The bill, known as the Concealed Carry Reciprocity Act, passed 231-198 along mostly party lines.
"For the millions of law-abiding citizens who lawfully carry concealed to protect themselves, for conservatives who want to strengthen our Second Amendment rights and for the overwhelming majority of Americans who support concealed carry reciprocity, Christmas came early," Rep. Richard Hudson (R-N.C.) said in a statement.
Concealed carry is the legal framework under which individuals in a given state can carry a concealed firearm. Some states currently set stricter standards than others for the right to carry a concealed weapon, with others limit that right to only those who can prove extraordinary circumstances for why they must walk around with hidden firearms.
The House-approved legislation would allow those with concealed carry permits from any state to use them anywhere in the country — even in states where concealed carry of firearms is strictly regulated.
According to the gun safety advocacy group Everytown for Gun Safety, there are currently 19 states that do not require any safety training for a concealed carry permit and 12 states where neither a permit nor background check are required. concealed carry permits do not require a background check.
"House Republicans just ignored opposition from law enforcement and the public in order to eviscerate state gun laws and make it easy for people with dangerous histories and no training to carry hidden, loaded guns across the country," Everytown president John Feinblatt said in a statement. "We'll hold those politicians accountable, just as we'll hold accountable those who support this dangerous legislation as this fight moves to the Senate."
As the bill heads to the Senate, some Republicans plan to try to overcome a filibuster and force passage of the measure by tying it to a bipartisan bill to update the federal background check system.