"We want our paper back": Ex-'LA Weekly' writers plot against paper's new owners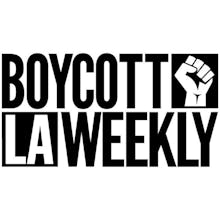 The former employees of LA Weekly want revenge.
On Nov. 29, the then-unknown new owners of the Los Angeles free weekly alternative newspaper abruptly gutted the staff, laying off all but four of the 13-person team without bothering to meet with them about the decision.
Those behind Semanal Media, a newly formed shell company that purchased LA Weekly from Voice Media Group for an undisclosed price in October, had remained intentionally anonymous throughout the sale and up until this week.
Already wounded by the layoffs, now ex-staffers and contributors were further incensed Monday when the people behind Semanal revealed themselves to be a cohort of conservative and libertarian businessmen — and that they plan to rely on unpaid contributors to cover a city that few of them, it appeared, live in or know well.
The secretive sale, identities of the new owners and new plan for LA Weekly has so incensed former staffers and contributors that some of them are organizing to see the paper go down in flames under the new owners.
Ex-staffers and contributors have engaged in an all-out revolt, contacting LA Weekly's advertisers to tell them to cut ties, discouraging freelancers from working with the title, and instructing readers not to pick up the paper from newsstands, visit its website or follow the paper on social media pages.
"If you've ever read or cared about LA Weekly, please do me one favor: unfollow them on social media right now," April Wolfe, the former lead film critic for LA Weekly, tweeted Monday. "They essentially bought the paper for its millions of followers who loved journalism. It would be your greatest gift to me to unfollow them. They don't deserve you."
More than 15 people, most of whom are former freelancers for the alt-weekly, are involved in organizing the multi-pronged boycott effort, according to Katie Bain, who wrote about music for LA Weekly and is involved. The effort, which has been spearheaded by Wolfe and by Jeff Weiss, a longtime music and culture freelance writer for LA Weekly, has targeted LA Weekly's advertisers and sponsors, but it will also include a protest and mock funeral – complete with a coffin — outside of LA Weekly offices this Friday. The hope is that the financial and public pressure will ultimately scare Semanal away from LA Weekly entirely.
"We want to raise visibility about the situation, have advertisers pull out of the publication and ultimately have the Semanal bros sell it back," Bain said.
Any attempt to buy back LA Weekly might be a long shot. But, Weiss said in an interview Monday, he feels it's the least he can do for the city and for the publication that means so much to him.
Weiss said he fears Semanal's investors might use the paper's pages to amplify their political views, which seem largely at odds with the left-leaning LA Weekly.
Some of the seven publicly identified new owners include Brian Calle, the former opinion editor of the Southern California News Group, WebShark360 CEO Steve Mehr, real estate mogul Mike Mugel and hotel developer Paul Makarechian. Calle, who will manage the paper's operations, was formerly the vice president of the right-wing think tank Claremont Institute, and has in interviews described himself as a "free market enthusiast." He and four other investors have donated to Republican political candidates in the past, with Mugel and Makarechian in particular being major donors.
"It's pretty difficult to think that a guy whose previous job has been formulating conservative opinions for one of the biggest newspaper chains in the country at this point would just want to purchase a historically left publication and not change the editorial bent of it," Weiss said.
Calle and Mehr have repeatedly denied that the paper was bought for any political purpose. In a post introducing the investors behind Semanal, Calle said that the group "is a patchwork of people who care about Los Angeles, care about the community and want to once again see an incredibly relevant, thriving LA Weekly with edge and grit that becomes the cultural center of the city."
Mehr said in an interview with the Los Angeles Times that he wanted Los Angeles to "rise to the level" of New York or San Francisco's cultural scene, and said that LA Weekly had been under-serving the city.
"There's no agenda other than making an immense effort to allow [LA Weekly] to be the voice of LA again," Mehr told the Times.
Former staffers aren't at all convinced.
"The nerve," Weiss said of Calle and Mehr's remarks. "The absolute, unmitigated gall. … LA is a million different things, a million different ideas. If you say that, you obviously don't know LA"
"And the way they diminished the work of everyone?" Weiss added. "How condescending and glib and inane."
Bain concurred. "I think their insipid statements about turning the Weekly into a cultural hub are just a front for whatever their true motives are — whether that's just running it into the ground or using it as a microphone to promote their own right-wing political viewpoints," she said.
The opposition to the new owners isn't just about politics. Over the weekend, new management put out a now-deleted call for submissions from "passionate Angelinos" — a misspelling of Angelenos, the term for a Los Angeles resident.
The spelling mistake further amplified ex-staffers' beliefs that the new owners are unsuited to cover Los Angeles — "If you can't spell Angelenos, how can you represent Angelenos?" Weiss said. But the move also indicated that the new owners plan to rely on unpaid contributors, a strategy that Calle confirmed in his Times interview.
"It looks like they're trying to move back to this model where people don't get paid, which just doesn't work anymore," LA Weekly's former food editor Katherine Spiers said. Spiers characterized the use of unpaid submissions and contributions "wrong" and "unethical."
Former staffers also expressed skepticism about LA Weekly's operations in the week since the layoffs. With a decimated staff, LA Weekly's homepage remained nearly unchanged over the past several days. Many of the articles promoted at the top of the website are from November; others published this week were authored by staffers who have since been laid off. LA Weekly's remaining staff writer, Hillel Aron, published a new article on Tuesday.
Frustration with the new management's handling of the publication, even within the remaining LA Weekly staff, seemed evident in a curt memo from sales manager Chris Hubbert to Calle and two others on Monday, in which Hubbert requested that new management discuss plans to maintain LA Weekly's social media presence, especially "who's [posting] and why, because this weekend was horrible and amateur." In the memo, which was obtained by Mic, Hubbert also requested that there be discussions about "content, content, content," "employment offers" and the paper's "immediate future."
Hubbert also indicated to the three a need to discuss "advertisers pulling" and "why everyone saw this coming except you." Calle told the Times that the email, which was sent erroneously to former staffers and was quickly posted on Twitter, was intended as "kind of a joke."
Outside of the company, the stumbles have further encouraged the boycott.
"Given that Brian Calle and crew have no transition team, and that the only new stories they've published were ones already prepared by the editorial staff before they got laid off, it's clear that he and the new owners don't give a shit about the Weekly, or just have no idea how to run a print publication and website," Bain said.
Spiers, who is not personally involved in coordinating the boycott but is an enthusiastic supporter, expressed skepticism that the new owners would be able to run the paper well.
"They just seem so out of their league," Spiers said. "If LA Weekly is going to exist, it has to be run by people who know what they're doing. Or at least by people who know that they don't know what they're doing, and hire people who do."
The first order of business in the crusade against the new owners was to topple an upcoming LA Weekly holiday event called Sips and Sweets, an annual event that was going to be held this year at the Petersen Automotive Museum in Los Angeles' Miracle Mile neighborhood. Weiss and other ex-writers, along with other members of the public, began contacting restaurants and vendors participating in the event to pressure them to back out.
By Thursday, more than a dozen sponsors had pulled out of the event, including Amoeba Music, Ococoa Chocolates, and Angel City Brewery. On Thursday afternoon, LA Weekly announced it had cancelled the event.
"It's with heavy hearts that we have decided to cancel Sips & Sweets 2017 while we work together as a new team towards realigning LA Weekly with the ideals on which it was founded," read a note from LA Weekly to vendors that Spiers posted on Twitter. "We appreciate all the work you have done in preparation for the event, and quite literally tried EVERYTHING we could as a team to get it done."
Calle did not respond to emailed requests for comment.
The commitment of the ex-staffers and contributors involved has attracted national attention, and has invigorated former staffers and contributors. But the end goal is somewhat unclear. The advertiser boycott and the new owners would certainly be a financial hit to the business, but there's no reason that they, as Weiss has suggested, would agree to sell LA Weekly back to another group. Presumably, they could even shut the whole operation down if they chose to.
Calle, in an interview with the Los Angeles radio show KCRW Press Play, said the investors were not concerned about making money, which Wolfe said on Twitter was "worrying."
"I don't even know what is going to happen," Spiers said about the future of the paper. "All [the new owners have] done, as far as I can tell, is piss people off."
Weiss suggested wryly that if the investors "are the free-market enthusiasts they say they are," they should be more than happy to sell it if the operation takes a financial hit. Then, he and the other organizers would turn the publication into a non-profit, and would reinstate the staff, he proposed.
"I'm not looking for war," Weiss said. "Just give it back … We want our paper back."
Dec. 7, 2017, 4:59 p.m.: This story has been updated.