Hattie McDaniel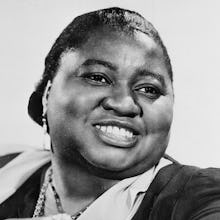 This article is a part of the Black Monuments Project, which imagines a world that celebrates Black heroes in 54 U.S. states and territories.
A black person winning an Oscar was unimaginable until Hattie McDaniel came along.
McDaniel was born in 1893 in Wichita, Kansas, when separate but equal was still the law of the land. She got her start in acting by playing characters on the radio, and then moved onto acting on the screen in 1931. After a few small gigs, she landed her first major onscreen role in the 1934 movie Judge Priest, where she played Aunt Dilsey, a singing, stereotypical maid character who speaks in broken English.
That was just the type of part that was available to an actress like McDaniel at the time. And eventually, because of the progress of the civil rights movement, those kinds of roles started to disappear throughout the 1940s, forcing McDaniel to return to working on the radio. But McDaniel's filmography demonstrates just how limited opportunities were for black women in Hollywood. By the end of her career, McDaniel had acted in nearly 100 movies — and she'd played the role of a maid 74 times.
McDaniel dealt with discrimination behind the scenes as well; even with her stardom, she wasn't impervious to the bigotry of that time. In 1939, McDaniel wasn't allowed to attend the Atlanta premiere for Gone With the Wind, a movie in which she acted, due to strict segregation laws in the South. And even when the movie was up for multiple Academy Awards in 1940, she wasn't allowed to sit with her fellow film stars during the Oscars. A favor had to be called in just to let McDaniel into the building. Segregation laws continued to manifest roadblocks in McDaniel's life, from (successfully) finding a place to live in Los Angeles to (unsuccessfully) being buried among her fellow Hollywood actors.
Fortunately, the law allowed her into the Oscars in the year 1940. But she didn't just make it into the building — she made it onto the Oscars stage, as well. McDaniel collected an Oscar for best supporting actress, on the strength of her performance as Mammy, the maid in Gone With the Wind.
"This is one of the happiest moments of my life," McDaniel said in her acceptance speech, before leaving the stage in tears. "My heart is too full to tell you just how I feel."
McDaniel died in 1952, but not before she made history with a statue, becoming the first black American to ever win an Oscar. It's only fitting that McDaniel get a statue of her own.