If we want to end rape culture, we need to address insufficient sex education, new book says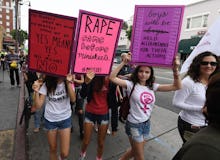 Since the allegations of sexual assault and harassment against Harvey Weinstein in October, we've seen a steady stream of allegations against powerful men in entertainment, media and politics, which have included indecent exposure, inappropriate touching, masturbating in front of unwilling onlookers and even assault in the workplace. We are also witnessing a rare moment where women's stories are impacting the way we think about men, power and rape culture.
But what about the way we think about sex? "Rape is not about sex" has been a longtime adage of anti-rape activists, partially in an effort to define rape as what it is: an act of violence rooted in power. Rape is not sex, but it is sexualized violence. Rape culture, or the social norms that allow for sexual assault to occur, include how we think about sex and how we think about sexuality, so it makes sense that if we want to end rape culture, we might also need to address the ways we are taught about sex.
Jaclyn Friedman, author and "pleasure" activist agrees that saying "rape isn't about sex" is "too facile and leaves a lot of people confused. Rapists use sex as a weapon of power," she told me over email.
In her new book Unscrewed: Women, Sex, Power and How to Stop Letting the System Screw Us All, Friedman tackles the structural barriers, like sexualization of women in the media and insufficient sex or consent education, that are preventing us from having fully actualized sex lives. Through profiles of sex therapists, researchers, activists and community organizations, she guides us through all the ways we've been "screwed" into thinking we have independent and fully realized sex lives (what she calls "faux empowerment"). Ultimately, she argues we are still restricted by gendered expectations of what sex should be like, who initiates or dominates in sex and whose pleasure we are focused on.
"The myth that talking about consent is unsexy comes from nearly every romance ever depicted in even PG films and TV."
She's got a point. From romantic comedies to the most low-brow pornography, a few common themes jump out. When it comes to heterosexual sex, these stories tell us men should dominate (masculinity is practically predicated on this assumption) and women "succumb" to the advances of men. In these stories, men will do anything to "get laid," while women want to get married and settle down. When women in movies, TV and porn are sexual creatures with desires of their own, they're considered radical or groundbreaking.
According to Friedman, "All media that depict sexuality help shape our ideas of sexual assault and consent." And that's whether we realize it or not. Friedman told me, "The myth that talking about consent is unsexy comes from nearly every romance ever depicted in even PG films and TV. The idea that rape can 'become consensual by the end' comes right from Game of Thrones."
One obvious opportunity for intervention in how we consume messages about sex and consent is determined in our youth through sex education. In the United States, there are two predominant methods of sex education. One is comprehensive sex education, which includes teaching about contraceptive use and discussion of pregnancy and sexually transmitted infections. The other is abstinence-only education, which teaches students that not engaging in sexual activity is the only true way to avoid consequences, such as pregnancy and STIs.
Sex education is a controversial issue in the U.S., which is administered at the state level and, often, the district level. In Unscrewed, Friedman wrote that "Only 24 states and D.C. mandate that schools teach any kind of sex ed at all." The CDC concurs. According to the Guttmacher Institute, "37 states require that information on abstinence be provided; 26 states require that abstinence be stressed; and 11 states require that abstinence be covered." In one analysis, 23% of schools teach abstinence only, which is up from 2% in 1988. And even though studies have shown that, often, abstinence-only education is ineffective in actually preventing unintended pregnancies, assault or STIs, the funding for it continues.
Friedman told me that since many young people are left to their own devices to explore their curiosities about sex, they tend to turn to free online porn, which she said often means "lowest-common-denominator porn."
In a Washington Post op-ed, Dr. Julia Long, sociology professor and author of Anti-Porn: The Resurgence of Anti-Pornography Feminism, writes that "the content categories of two of the most popular tube sites — XHamster and Pornhub — reveal a dismal pattern of endless scenarios of male dominance and female subordination, categorized by specific acts, female body parts, race and age." One glance at any of these websites (should you dare) and you are inundated with images of sex that can be objectifying and violent in unsettling ways. Hardly, does one actor stop to ask another if she's happy with what is happening or if it is what she wants.
Perhaps it seems like a crooked line to draw, sex education at a young age to old men in power sexually abusing women, but Friedman tells me there is evidence that age-appropriate sex education helps people identify when something is consensual or not. She used the example of the Steubenville, Ohio, rape case, when two high school football students were accused (and later found guilty) of sexually assaulting a high school girl and bystanders did nothing (some even taped the incident and spread it on social media). In the Brock Turner case, the Stanford student who raped a young woman while she was unconscious, two men did intervene. Friedman hypothesized that compared to the U.S. students, the bystanders in the Turner case "grew up in Sweden, where all of these things are taught in age-appropriate ways in every grade, starting in kindergarten."
However, this theory doesn't give a pass to an older generation of men who are now facing accusations of harassment and assault. Whether you learn about consent or not, signs such as someone saying "no" or crying or reporting the incident should give an indication that what you have done is wrong. But as we sit on the precipice of a new way to think about consent and the role that men play in sexually abusing women, there is an opportunity to course correct for a new generation. Friedman told me that women have been speaking up against powerful men for generations and "the idea that women's testimony alone is now going to change everything is a bit of a romance."
Friedman urges us to talk about systemic solutions, including "pushing for gender parity in leadership" or "researching what approaches might be effective in making violent men less violent." But while we are in the "middle of the beginning" of an unprecedented moment where more and more women are stepping up and saying #metoo, we have to ask ourselves how do we stop this normalized pattern of sexual abuse?
One plausible solution could be talking honestly to young people about what consent looks like and the appropriate ways to express desire.