The Rev. Edward Carroll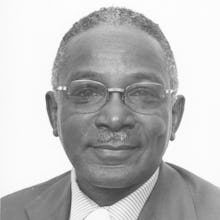 This article is part of the Black Monuments Project, which imagines a world that celebrates black heroes in 54 U.S. states and territories.
The Rev. Edward Carroll wasn't drafted to fight in World War II. He volunteered — not to battle foreign powers, but with the hope that he could combat racial discrimination on behalf of other black Americans.
Carroll served as the chaplain for the 95th African-American Engineer Regiment of U.S. Army Corps of Engineers. The Washington City Paper reported in 1993 that he was the only black commissioned officer among that regiment, which consisted of 1,225 enlisted men and 52 officers. Carroll's unit was one of three black regiments that worked on the Alaska Highway endeavor in 1942.
President Franklin D. Roosevelt commissioned the 1,685-mile stretch to create a connection between the contiguous United States and Alaska via Canada. The project was accelerated by the threat of Japanese invasion after the Pearl Harbor attack on Dec. 7, 1941.
One of Carroll's objectives was to fight racial discrimination on what would be considered one of the biggest and most difficult construction projects in U.S. Army Corps of Engineers' history — and one of the most expensive construction projects of World War II.
"They were men of intelligence ... [who] could endure the rigors of that climate," Carroll told the Baltimore Sun in a 1992 interview celebrating the 50th anniversary of the construction. "They were considered a labor battalion. ... [But] they had just as much to contribute as any soldier, any person."
As an officer, Carroll was still treated differently than his white counterparts: Initially he was restricted from eating with the other commissioned officers, the Washington City Paper reported. Following a protest by black noncommissioned officers, the regiment's commander issued a decree to allow Carroll to dine with the other officers.
To construct portions of the highway, the black engineers often had to use second-rate supplies in miserable weather conditions. One of their biggest feats was building a bridge across the Sikanni Chief River, which was completed in just three days — less than half the time usually required for bridge construction.
Carroll, who was a graduate of Columbia University and the Yale School of Divinity, went on to preside over churches in New York City after serving in the military. He later moved to Baltimore, where he became the pastor of Sharp Street Memorial United Methodist Church in 1955. He was elected a bishop of United Methodist Church in 1972. Carroll died in January 2000.
Ultimately, in terms of bridging the gap between black and white enlisted men, Carroll was one notable, yet lesser-known figure in the fight for equality within the military. The Alaska Highway, referred to as the "road to civil rights" by the Federal Highway Administration, is credited for being one of the events that led to the desegregation of the military in 1948.