Lincoln J. Ragsdale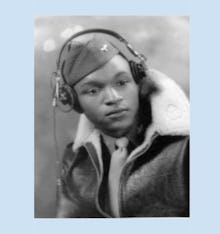 This article is part of the Black Monuments Project, which imagines a world that celebrates black heroes in 54 U.S. states and territories.
At 19 years old, Lincoln Ragsdale was close to being lynched in Alabama.
At the time, Ragsdale was a recent graduate of the Tuskegee Army Air Corps Field in Alabama, one of the government's first steps toward integrating the military. When a white gas station attendant had an issue with his demeanor, he called police, who then beat Ragsdale and suggested killing him before realizing he was wearing a military uniform.
Ragsdale was the one of the first black American fighter pilots who was trained during World War II and was commissioned as a second lieutenant in November 1945. He was stationed at Luke Air Force Base near Phoenix.
"I remember when we used to walk through black neighborhoods right after the war and little kids would run up to us and touch our uniforms, 'Mister, can you really fly an airplane?'" Ragsdale told the Arizona Republic in 1983. "The Tuskegee airmen gave blacks a reason to be proud."
However, his experience on base — battling discrimination among his white counterparts — inspired him to fight racism and inequality after his service. Ragsdale became heavily involved in the civil rights movement in Phoenix, where he became a leader of the local NAACP, the Phoenix Urban League and the Greater Phoenix Council for Civic Unity. He, and his wife Eleanor, fought tirelessly against segregation, housing discrimination, disenfranchisement of people of color and economic inequality in the city. In 1953, one year before the Brown v. Board of Education decision made segregation unconstitutional, he helped integrate high schools in Phoenix. In another feat, he was instrumental in getting Arizona to become the first state to recognize Martin Luther King Jr. Day in 1992.
Ragsdale was also a successful entrepreneur with a funeral home, insurance company and real estate business. He opened the first black-owned funeral home in the city. He earned a graduate degree from Arizona State University and a doctorate in business administration from Union Graduate School in Cincinnati, Ohio.
Ragsdale was born in Ardmore, Oklahoma, to a middle-class family known for opening the nation's first black-owned funeral business. His father's mortuary business was located in the black neighborhood of Greenwood in Tulsa, where a white mob launched a race riot, and attacked black residents and their businesses in 1921.
Ragsdale died in 1995. He was 69. For his work in the fight for civil rights in the West, The Black Monuments Project honors him today.