Macon Bolling Allen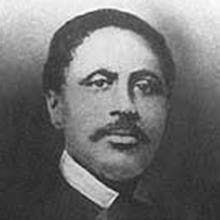 This article is a part of the Black Monuments Project, which imagines a world that celebrates Black heroes in 54 U.S. states and territories.
Macon B. Allen, who was born a free man in Indiana in 1816, is considered the first black lawyer in the United States. His biography recognizes him as several "firsts" for black Americans, years before black people were even considered full U.S. citizens.
Allen was a schoolteacher before he made his way to Portland, Maine, in the early 1840s. Maine had joined the union in 1820 as a free state, and the anti-slavery movement was growing there. Allen studied under abolitionist and attorney General Samuel Fessenden, who helped him obtain the qualifications needed to practice law. In Maine, admission to the bar required an applicant to be born in the state and have a "certificate of good moral character." With Fessenden's support, Allen passed the bar in 1844 to become the first black licensed attorney.
But Allen's stay in Maine didn't last long. He couldn't find work and so he moved to Boston, where he passed the Massachusetts bar exam and opened up a law firm with another black lawyer, Robert Morris. Allen made history as the first black person to practice law. He later became justice of the peace for Middlesex County, Massachusetts, the first black person to do so.
In 1868, Allen left Massachusetts for Charleston, South Carolina, where he served as a judge in the probate court. He eventually moved to Washington, D.C., and worked as an attorney for the Land and Improvement Association. Allen practiced law until he died in 1894. He was 78.
Allen was a pioneer for racial progress in the field of law, setting the stage for generations of black lawyers and judges who are continuously fighting on behalf of equality. That his history-making feats occurred before slavery was abolished in the nation is perhaps the most astonishing fact of all.