Edna Griffin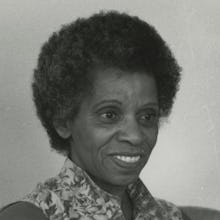 This article is a part of the Black Monuments Project, which imagines a world that celebrates Black heroes in 54 U.S. states and territories.
Edna Griffin's persistent efforts to integrate public places in Des Moines, Iowa, is the reason many in the Hawkeye State hail her as a hero of the civil rights movement. Even though Griffin's pursuit against racism came seven years before the Montgomery bus boycott, she later became known as "the Rosa Parks of Iowa."
Griffin, born on Oct. 23, 1909 in Lexington, Kentucky, grew up in New Hampshire, where her father was a dairy farmer supervisor, according to the Iowa History Journal. After high school, Griffin attended Fisk University, a historically black college in Nashville, Tennessee. There she met Stanley Griffin, whom she later married. When her husband was accepted into what was back then the Still College of Osteopathy and Surgery, the couple moved to Des Moines in 1947. In Des Moines, they began to experience racial discrimination, which led to Griffin fighting for equality for black Americans in Iowa.
In July 1948, Edna went to the Katz Drug Store with John Bibbs and Leonard Hudson, members of the local Progressive Party, which Griffin had recently joined. When they asked for ice cream at the lunch counter, an employee told them the store was "not equipped to serve colored people." Griffin then organized a series of actions against Katz, including boycotts outside the store every weekend, and sit-in demonstrations. Griffin also filed a lawsuit against Katz, citing the 1884 Iowa law that made discrimination illegal. Katz was found guilty, and in a civil trial, the jury awarded her $1. The victory made it illegal to discriminate against black patrons in Iowa.
As the civil rights movement progressed, Griffin founded the Des Moines chapter of the Congress of Racial Equality. One of the group's first actions included organizing a day of mourning for the four black girls who were killed in a Birmingham church bombing in 1963, known as the 16th Street Baptist Church bombing. Griffin was also vocal about housing discrimination and the importance of early childhood education. Griffin was 90 when she died on Feb. 8, 2000.
Forty years after Griffin's legal victory over Katz, the Flynn building where the store once stood was renamed after her. She was also inducted into the Iowa Women's Hall of Fame in 1985. For the last several decades, the state of Iowa has rightfully propped up Griffin as a local hero. Let's fully honor her by erecting a statue in bronze.