Madam C.J. Walker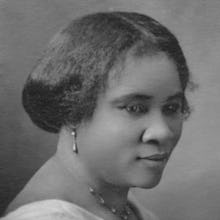 This article is a part of the Black Monuments Project, which imagines a world that celebrates Black heroes in 54 U.S. states and territories.
Madam C.J. Walker is the definition of a self-made black American woman. She changed the beauty industry by introducing hair care products for black hair that promised growth for consumers of the product. With the success of her company, Walker established herself as the first self-made woman millionaire in America. But her story had humble beginnings.
Walker was born near Delta, Louisiana, on Dec. 23, 1867, to freed slaves Owen and Minerva. Her birth name was Sarah Breedlove. By the age of 7, both her parents had died. Later, she went to live with her sister and brother-in-law and they relocated to Vicksburg, Mississippi.
While there, Walker worked on a cotton farm. After enduring abuse from her brother-in-law, she married a man named Moses McWilliams at the age of 14. After McWilliams' death, she and her daughter A'Lelia moved to St. Louis, where she worked at her brothers' barbershops as a washwoman. Walker's name changed following her marriage to Charles Joseph Walker, who later helped her build her hair care business.
After she developed a scalp disorder that caused her hair to break off, Walker experimented with making her own solutions for relief. Soon after, she developed products for growing hair and sold them throughout the South to beauticians as "Madam C.J. Walker," which was her husband's suggestion. Then, the "Walker system" was born, and she set up her headquarters in Indianapolis.
Walker revolutionized the way black women washed and styled their hair, by customizing scalp treatment products and hair straightening techniques for their needs. She opened beauty schools and later visited the Caribbean and Latin America to target customers there as well. Her Walker product saleswomen reportedly made $5 to $15 a day during a time when the lowest skilled white laborer made $11 a week. She also held an annual conference for her company, where she discussed business and black politics.
In her later years, Walker settled in Harlem in New York City, where she ran her company. She also donated to a number of organizations such as the NAACP and the National Conference on Lynching. Before her death in 1919, Walker's business was worth more than $1 million.
Nearly a century after her death, the Walker legacy lives on. In 2016, the brand was relaunched as the Madam C.J. Walker Beauty Culture. Sundial Brands, which also owns natural hair care company Shea Moisture, bought Madam C.J. Walker Enterprises in 2013, and worked closely with Walker's great-great-granddaughter, A'Lelia Bundles, to ensure the products uphold her ancestor's legacy. Now, instead of just laid edges and sleek tresses, black women and men of all hair textures can get their hair poppin' with ease.