Powerful photos show Australians celebrating the moment same-sex marriage finally passed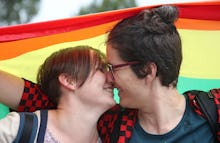 On Thursday, Australia voted to become the 25th country with marriage equality when the Australian House of Representatives passed a bill legalizing same-sex marriage. The legislation passed with a clear majority and only four votes against it, the New York Times reported on Thursday.
The Australian Senate had approved it the week before, by a vote of 43 to 12. Supporters of same-sex marriage in Australia gathered to watch the final approval of the bill on Thursday, some breaking into cheers and celebrations the moment the measure passed.
According to the Times, observers watching the vote from the public gallery broke out into the song "I am Australian," and some lawmakers got teary-eyed as they looked up at the gallery.
The legislation followed a national postal survey over the question of whether or not to legalize same-sex marriage. The results of the survey were clear — 61.6% of the more than 12 million respondents voted "yes" and only 38.4% voted "no."
Australian Prime Minister Malcolm Turnbull, a supporter of same-sex marriage, said on Thursday that, "This belongs to us all. ... This is Australia: fair, diverse, loving and filled with respect. For every one of us this is a great day," the Times reported.
The passing of same-sex marriage is the result of a long national fight. As the Times reported, since 2004, there have been 22 unsuccessful efforts in Parliament to pass a same-sex marriage bill.
The new law will change the definition of marriage in Australia from "the union of a man and a woman" to "the union of two people," the Times reported, and it will recognize the marriages of same-sex couples who married overseas.
In an emailed statement on Thursday, Ty Cobb, director of Human Rights Campaign Global, cheered on the vote, saying, "We welcome Australia into the growing family of freedom-loving nations that ensure marriage equality for all couples. ... The overwhelming support for marriage equality down under is a testament to the hard work of Australia's LGBTQ advocates and allies who fought tirelessly to make today a reality. We congratulate them on this incredibly important victory."
Same-sex marriage will officially be legal as soon as the bill receives royal assent from the governor general later in December, the Guardian reported on Thursday.
Liberal Senator Dean Smith, an out gay politician who authored the bill, said on Thursday that the victory was "owned by everyone, it is owned by the Australian people," the Guardian reported.