Susan Collins and Jeff Flake's support for tax reform no longer makes sense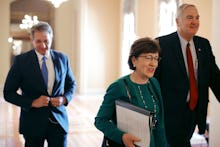 Welcome to Mic's daily read on Donald Trump's America. Want to receive this as a daily email in your inbox? Subscribe here.
Thursday's dispatch: Flake and Collins supporting tax reform no longer makes sense
A week ago, Sen. Bob Corker (R-Tenn.) brought the progress of tax reform to a grinding halt as he nearly voted to send the Senate tax plan back to committee.
Sens. Jeff Flake (R-Ariz.) and Ron Johnson (R-Wis.) temporarily joined Corker's opposition. By that point, Sen. Susan Collins' (R-Maine) support for the overall tax bill seemed likely — but was also not guaranteed.
Johnson was moved to "yes" — with a larger deduction for noncorporate businesses. Corker opposed the final tax bill.
Winning over Flake and Collins became key.
Flake voted for the tax plan because he said he secured a "firm commitment" from Senate leaders and the White House to work on protecting recipients of the Deferred Action for Childhood Arrivals program. Collins voted "yes" because she claimed Senate Majority Leader Mitch McConnell (R-Ky.) would support passing a bill to stabilize the Affordable Care Act's individual market and protect people with pre-existing health conditions.
That strategy no longer makes sense.
House and Senate Republicans appear poised to move ahead with repealing the ACA's mandate that Americans buy health insurance. But the deal Collins struck with McConnell to pass bills to stabilize the ACA "has been all but rejected by House Republicans," the New York Times wrote.
House Speaker Paul Ryan (R-Wis.) made it clear earlier this week that he was not part of the deal McConnell cut with Collins. Ryan reportedly told House conservatives he would not pass a deal to fund the government with Democratic votes — also looking to shore up support among Republicans who are also unlikely to agree with Collins on health care.
As for DACA, Flake's demands are ambiguous. He did not say DACA recipients — people who were brought to the United States as children and had legal protection from the program created by former President Barack Obama — must be protected by the end of the year.
But creating permanent protection for DACA recipients in the next 24 days is the explicit demand of moderate House Republicans and all Democrats. The commitment Flake received, however, is shaky at best.
Top Republicans continue to say passing an immigration bill can wait until 2018. The House Freedom Caucus — a powerful block of about 30 conservatives — does not want DACA protections in a year-end spending bill. And White House legislative director Marc Short said earlier this week President Donald Trump is not interested in a DACA fix this month.
Trump announced in September that DACA would end in March — giving Congress time to pass a legislative fix. But Democrats and immigration advocates say each passing day means more people cannot renew their DACA status and risk being deported.
If House Republicans won't pass bills to support the ACA and Republicans dismiss DACA negotiations this year, Collins and Flake appear to have given their votes away for nothing. At least one of the senators' votes will be needed to pass the final tax reform bill that emerges from a conference between the House and Senate.
Collins maintains she is not a certain "yes" on the final tax vote. For now, Flake has not wavered. Republicans expect to pass the bill by Friday and are considering a two-week resolution to keep the government open until Dec. 22.
Today's question: Do you think Collins or Flake will pull their support for the tax plan?
Please email us your thoughts at trumpsamerica@mic.com
Thursday in Trump's America:
Al Franken: Thirty-two Democratic senators called on Sen. Al Franken (D-Minn.) to resign after two new allegations were reported of the senator groping women. Republican Sens. Susan Collins (R-Maine) and Deb Fischer (R-Neb.) also called on Franken to resign.
On Thursday, Franken will make a statement about his future in the Senate. Republicans were largely muted over whether Franken should resign, declining to weigh in. Minnesota Gov. Mark Dayton is expected to appoint an interim senator (Lt. Gov. Tina Smith) who will not seek the seat in a special election that would take place next year.
Shutdown talks: Congressional leaders will meet with Trump on Thursday to discuss a deal to avert a government shutdown. Republicans need eight Democrats in the Senate to keep the government open, and may need help in the House, too.
Publicly, Democratic leaders have said protection of DACA recipients must come this year. Watch to see if that holds after Thursday's meeting.
Conyers saga: John Conyers III, the son of retired Rep. John Conyers (D-Mich.), was arrested in February after being accused of stabbing his girlfriend. He denies the allegation, and criminal charges were dismissed. The former congressman endorsed his son to take his seat after allegations of sexual harassment led to Conyers' resignation.
Guns: The House passed legislation to expand where people can carry concealed weapons.
Alabama: Sen. Cory Booker (D-N.J.) will campaign on Sunday in Alabama with Reps. John Lewis (D-Ga.) and Terri Sewell (D-Ala.) to support Doug Jones, the Democratic Senate nominee, ahead of Tuesday's special election, Sewell's office said.
Jerusalem: Trump's decision to recognize Jerusalem as the capital of Israel drew praise from conservatives. But it led to Hamas, an extremist Palestinian organization, calling Trump's decision a "declaration of war" and demanded an "uprising" against Israel.
The decision may have permanently ended any peace talks between Israel and Palestine.
Russia investigation: Donald Trump Jr. cited "attorney-client privilege" to refuse answering questions about a conversation with the president after news broke Trump Jr. met with a Russian lawyer with ties to the Kremlin.
North Korea: War with the United States is inevitable, North Korea says, as South Korea and the United States continue military exercises.
Tax reform: Apple stands to cut its taxes by $47 billion if the tax package passes — the largest beneficiary of the bill.
Today's MicBite:
A former top Interior department official who resigned in October said Trump's shrinking of national monuments in Utah represents a double standard. Click or tap the video below to watch.