After Lupita Nyong'o nabs another 'Vogue' cover, some wonder why other black stars aren't worthy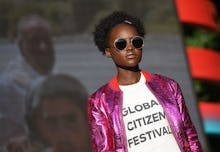 Here's some good news for once: Vogue's January issue features the luminous Lupita Nyong'o on its cover, in a sparkly dress while standing strong in a yoga pose on a surfboard in open water.
Advertised as the "Wellness" issue, this is Nyong'o's fourth Vogue cover, first gracing the fashion glossy with her presence in 2014, with subsequent covers in October 2015 and October 2016.
She's now got more covers than Michelle Obama, who got three covers as first lady.
And while many are applauding her continuing her rule of Vogue...
Others couldn't help but wonder why Vogue continues to embrace only a small handful of black stars.
This point — that Vogue's black cover girls are almost always Rihanna, Beyonce or Nyong'o — has been made before. In 2016, Yahoo wrote, "17 black women who are not Rihanna, Beyoncé or Lupita Nyong'o Vogue should feature on its cover." Since then, Zendaya got a cover this July, and Ruth Negga popped up last January, but as far as black women who are obviously Vogue "favorites," it's a select few.
And there are countless other black women worthy of Vogue covers, including Taraji P. Henson or Viola Davis or Octavia Spencer or Ava Duvernay or Kerry Washington or Gabrielle Union or Uzo Aduba, none of whom have landed a Vogue cover of their own.
This issue of only a few black female celebrities regularly popping up on U.S. Vogue covers could obviously be linked to the fact that Hollywood embraces more white stars than black stars still, too. But as Hollywood does try to diversify, Vogue has a chance to make certain stars rise faster than the others.