Wray defends FBI against Trump attacks: "Our reputation is quite good"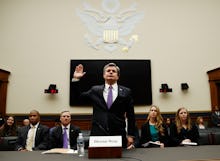 FBI Director Christopher Wray on Thursday defended his bureau against attacks from President Donald Trump, telling the House Judiciary Committee that his staff is comprised of "decent people committed to the highest principals of integrity and professionalism and respect."
"There is no shortage of opinions out there," Wray said. "The FBI that I see is tens of thousands of brave men and women working as hard as they can to keep people they will never know safe from harm."
Trump on Sunday tweeted that the FBI's reputation was in "Tatters," and that it is the "worst in History!"
His criticism of the bureau came after his former national security adviser, Michael Flynn, pled guilty to lying to FBI agents about his contacts with Russia, and after it was revealed that special counsel Robert Mueller dismissed a prosecutor who had sent anti-Trump texts.
He said the investigation into his campaign's ties to Russia is "tainted" and said the system was either "rigged" or that there was a "double standard" between Flynn and Hillary Clinton.
But Wray, who was nominated to lead the FBI by Trump after he fired James Comey in May, said that while the bureau expects criticism "from all corners," he has found its reputation to be "quite good."
The FBI director took questions from members of the House Judiciary Committee for several hours Thursday.
Republicans pressed him over Peter Strzok, the FBI agent who was removed from Mueller's investigation over the summer after the special counsel discovered he had exchanged anti-Trump texts with a colleague. The top prosecutor was also involved in changing key language in Comey's description of Clinton's email scandal, it was reported this week.
In concluding his investigation into Clinton's emails in 2016, Comey had said she was "extremely careless" but that there was not evidence she and her colleagues "intended to violate laws governing the handling of classified information."
"Our judgment is that no reasonable prosecutor would bring such a case," Comey said.
But an earlier draft of the statement concluded Clinton had been "grossly negligent" in her handling of the classified information — language that could have left the Democratic candidate vulnerable to possible legal issues.
Republicans hammered Wray over Strzok, suggesting that the bureau's intensifying investigation into Russian election interference could be biased, as Trump has said.
Wray declined to answer their questions with specificity, citing an outside investigation into the FBI's handling of the Clinton probe and saying that it would not be "appropriate" to comment on it.
"I think it is important that we not jump first and ask questions later," Wray said.
Democrats, by contrast, used the hearing as a platform to denounce the president's attacks on the FBI and to express support for Mueller's investigation into the Trump campaign's links to the Kremlin.
Rep. Ted Deutch (D-Fla.), who also serves on the foreign affairs committee, thanked the FBI for its Russia probe and said Republicans' talking points Thursday were "eerily similar" to those of Trump. He also called on his colleagues to ensure the president doesn't try to fire Mueller.
"Let us protect the special counsel," Deutch said.
Wray was cautious in his comments on both Strzok and on the Russia investigation, but did say that his experiences with Comey were "positive" and that Mueller is "very well respected within the FBI."