Ida B. Wells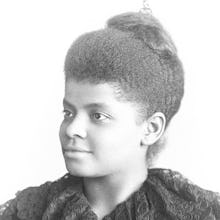 This article is a part of the Black Monuments Project, which imagines a world that celebrates Black heroes in 54 U.S. states and territories.
Ida B. Wells is a racial justice hero. She once said she would "rather die fighting against injustice" than sit on the sidelines, no matter how dangerous the battle became.
Wells was born to two slaves in Holly Springs, Mississippi, three years before the Civil War began. Both her parents and a younger sibling died of yellow fever when she was 16, and they later moved to Memphis with her five siblings to live with an aunt.
In 1884, when she was in her early 20s, Wells began fighting racial injustices when she refused to give up her seat to a white man on a Chesapeake & Ohio Railroad Company train. She had bought a first-class ticket from Memphis to Nashville. Initially, she sat in the ladies section because the closest Jim Crow car was a smoking section. The conductor forcibly dragged her off the train, but not before she bit his hand and fiercely clung to her seat. Wells sued the railroad company, for violating the 1875 Civil Rights Act that banned discrimination in public places, and won. But the train company successfully appealed to the Supreme Court of Tennessee.
The train incident ignited a fire in her to tell her story and the stories of others oppressed by systematic racism. She eventually became a partner in the Free Speech and Headlight newspaper with the pastor of Beale Street Baptist Church, Rev. R Nightingale. In the 1890s, she started writing about lynchings in the South, and as a teacher, she also wrote about unequal treatment of black children in Memphis' public schools.
In 1892, her last major story in Memphis was about a friend and two of his business partners who were lynched because they fought back when their grocery store was being attacked by angry white men. While awaiting trial in jail for shooting one of the attackers, the men were dragged away from town and killed. Her investigative coverage of the People's Grocery Company owners and their murders was so compelling that it led to a boycott of white-owned businesses. But it also upset whites in Memphis who destroyed the newspaper office she worked at — and soon after she left for Chicago.
But Wells was not deterred by her experience in Memphis. In 1895, she published A Red Record, an examination of lynchings in America from 1892 to 1894. She gained the support of abolitionist Frederick Douglass and lawyer Ferdinand Barnett, whom she married in 1895. Wells continued writing and helped develop the Alpha Suffrage Club of Chicago, the first black women's suffrage organization. In 1913, she headed to Washington, D.C., to participate in the historic suffragist march. With activist and social worker Jane Addams, she successfully blocked the establishment of segregated schools in Chicago.
In addition to her anti-lynching and suffragist work, Wells also founded the National Association of Colored Women. She was one of the few women who co-founded the NAACP in 1909, and became a member of Delta Sigma Theta Sorority, a black women's sorority, shortly after. The prolific activist ran for Illinois state legislature, just before she died in 1931, breaking barriers as one of the first black women to run for public office in the United States.
For the team at "The Movement," Wells is the standard bearer for the work we do — and we will continue to follow in her footsteps by reporting fearlessly on race and social justice issues.