2018 Gift Guide: 8 kitchen gadgets for food lovers between $7 and $80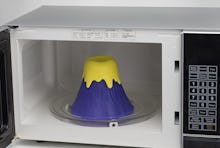 The holidays are quickly approaching, and studies (and etiquette experts) reveal that practical presents are often more appreciated than over-the-top, expensive electronics.
For the people in your life who live to eat and love to cook, a kitchen gadget works on every level, from a high-tech immersion blender to a microwave cleaner as stocking stuffers.
Editor's note: Prices and product availability are subject to change throughout the holidays.
A magic wand for homemade soups
Mix up soups, smoothies and salad dressings with a hand-held immersion blender ($32 on Amazon). The shaft is dishwasher safe, and liberating someone from a sink full of dirty dishes and gadgets is the best gift of all.
A festive vessel for homemade popcorn
Nothing pairs with Netflix quite like popcorn. Avoid chemical-laced microwave popcorn bags and DIY with this easy-to-use popper ($20) from Chef'n. It can make up to 10 cups of popcorn and you won't even need to turn on your stove. Boo-yah.
A grater to make it rain parmesan
This Microplane grater isn't a one-trick pony — it can send a snowfall of parmesan cheese onto your pasta, zest up citrus for cocktails or even grate chocolate for a flourish on desserts. This inexpensive, stainless steel Microplane ($17) will become a go-to in any kitchen.
A volcano to sanitize a microwave
Start the new year off with a cleaner kitchen with this nifty, kid-friendly Kitchen Gizmo Eruption Disruption Microwave Cleaner ($13). It's a plastic volcano that will erupt warm water and vinegar inside a microwave, helping get every last grease stain off.
A bubble-making beauty
A SodaStream Source Sparkling Water Maker ($80 at Williams-Sonoma) will change the life of any bubbly lover. In 30 seconds flat, this kitchen gadget turns flat water into a delightfully fizzy beverage. It won't take up too much kitchen counter space, plus it looks awfully sleek.
A gadget to slice, slice baby
Upgrade a decades-old mandoline with this super stylish OXO wunderkind, the Mandoline 2.0 ($80). This gadget can cut thin tomato slices for sandwiches and turn potatoes into waffle-cut or crinkle-cut fries. The included food holder ensures no fingers are harmed in the process.
A frother for someone you love a latte
Coffee and matcha lovers will appreciate this small and mighty handheld electric milk frother ($7 on Amazon). Don't forget to gift batteries with this gadget so your loved one can use it right away.
A pair of mitts for kitchen animals
Pulling out a hot tray of cookies with bare hands is no fun. These bear hands (pun intended) will do the trick. Pick up these oven mitts ($18 on Amazon) to spice up a day of baking.