James Weldon Johnson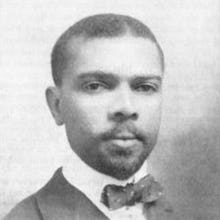 This article is a part of the Black Monuments Project, which imagines a world that celebrates Black heroes in 54 U.S. states and territories.
James Weldon Johnson wrote the poem "Lift Ev'ry Voice and Sing" around 1900. The poem was written at the turn of the century, amid the devastating conditions for black Americans in the Jim Crow South, especially the lynchings that were taking place across the country.
"Lift Ev'ry Voice and Sing" was first performed by 500 children at a school in Jacksonville, Florida, at a celebration for President Abraham Lincoln's birthday, according to the NAACP. Johnson, who was born and raised in Jacksonville, served as the school's principal. Johnson's brother, John Rosamond, had set the poem to music. The NAACP adopted it as the group's official song — it's known as the "black national anthem."
But Johnson was more than just a poet. He was a novelist, educator, attorney, songwriter and activist. After graduating from Atlanta University, a historically black university, in 1894, he became the principal of Stanton School in Jacksonville. Also, he passed the Florida bar exam, becoming the first black person to pass the exam in the state, according to Biography.com.
In 1901, Johnson moved to New York City with his brother, and together they wrote more than 200 songs for Broadway. An NAACP biography says he also developed an interest in civic work, which led him to serve as the United States consul in Venezuela, in 1906, and in Nicaragua, in 1909.
In 1912, Johnson published The Autobiography of an Ex-Colored Man, which the Daily Beast reported is the first black novel written entirely in first-person point of view and cemented him in with the other intellectual heavyweights of the Harlem Renaissance. The novel is centered on a biracial man living in the post-Reconstruction South, who after witnessing a lynching decides to pass as white to stay safe from discrimination. Johnson, whose peers included W.E.B. Du Bois and Booker T. Washington, advocated on behalf of black people taking up art and culture to advance in America.
Eight years after his impactful book was released, Johnson became executive secretary of the NAACP, where he served until resigning to teach at Fisk University, a historically black university in Nashville, Tennessee. In 1934, he became the first black professor at New York University, according to Biography.com. Johnson died in 1938 in Wiscasset, Maine. He was 67.
Recognizing Johnson in this project is particularly timely considering the uproar over the national anthem and NFL players who are protesting racial injustice and police brutality. Perhaps now more than ever, we should be lifting every voice and singing the black national anthem.