Criminal charges against 'Mic' reporter dismissed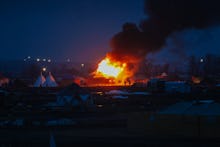 A North Dakota judge has dismissed criminal charges against Mic reporter Jack Smith IV, who was arrested in February while covering protests and police activity at Standing Rock Indian Reservation in North Dakota.
Bruce Romanick, a judge for North Dakota's South Central Judicial District, granted Smith's motion to dismiss the case because the state of North Dakota failed to amend the criminal complaint to lay out how Smith committed a crime, he wrote in a Nov. 14 court order.
"As of this date," Romanick wrote, "the state has not amended the complaint to set out the elements of the crime charge, thus notifying the defendant of crime and the specifics of the crime charged."
North Dakota could choose to recharge the case. It's unclear at this time whether it will.
Smith, a senior reporter for Mic, was arrested Feb. 22 along with several activists and water protectors who had opposed the completion of the Dakota Access pipeline. Smith, who was at Standing Rock's Oceti Sakowin Camp to cover the protests and document police activity, was charged with obstruction of a government function. His personal property, including a camera and a laptop, were seized from him at the time of the arrest and have not been returned.
The charges, which constituted a Class A misdemeanor, could have led to a year in jail, according to the U.S. Press Freedom Tracker.
"It was outrageous that Jack Smith IV was ever arrested simply for doing his job," Kerry Lauerman, Mic's executive news director, said in a statement. "We are glad the state of North Dakota came to its senses and dropped the charges, and now ask that officials immediately turn over his property, a camera and computer, which they have now had for nine months."