What Melania Trump wore her 46th week as first lady — when the hurricane heels struck again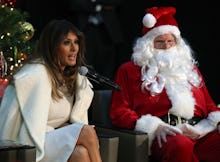 Melania Trump was back to White House traditions yet again this week. Save for meeting with Hurricane Harvey first responders, she was all about continuing some of her predecessors' most admirable traditions, like visiting a children's hospital in D.C. to read a storybook and participating in the Hanukkah celebration at the White House.
Trump wore nothing truly shocking this week, sticking to neutrals, which remain her favorite color palette.
This is what she wore:
Wednesday, Dec. 6: Heels — again — for visiting Hurricane Harvey victims
For her third trip to visit the victims and first responders of Hurricane Harvey in Texas, Trump wore an outfit mostly suitable for touring a devastated area: an Army green puffer jacket from Rag & Bone worn over a sweater and tight green jeans. But then she had to go and wear heels again.
Back in August, when Trump first visited Texas after the hurricane with her husband, she caused controversy for stepping out in sky-high stilettos. She naturally changed on the plane there, but the image it sent to viewers was that she cared more about fashion than the devastation, and had no intention of getting dirty.
This time, Trump toured facilities in Texas in heeled boots. And people were again not very happy about it.
Thursday, Dec. 7: A wintery white ensemble for visiting a Washington hospital
First ladies since Jacqueline Kennedy have visited Children's National Medical Center in Washington, D.C. for the holidays, and Trump continued that tradition this week.
While reading The Polar Express for the children — and Santa Claus — she wore a light cream shift dress, a white coat and snakeskin heels, all by designers who have yet to be identified.
Thursday, Dec. 7: A black dress for her first Hanukkah reception
For her first White House Hanukkah reception ever, Trump wore a very simple black, sleeveless dress with a band at the waist by a currently still-unknown designer.
You can see previous recaps of what Melania Trump wore here.