After Brazile's bombshell, Democrats are meeting to take a stab at problems plaguing the party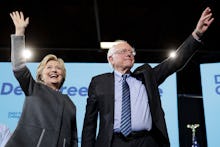 After the 2016 Democratic primary, tensions were high between the Bernie Sanders and Hillary Clinton camps over how the primary had gone down. So they did what any good political party does when its situation get arduous: form a committee and forget about it.
And with that, the 21-member Unity Reform Commission was born — to find solutions to the issues that plagued the party during its divisive 2016 primary. The commission includes Sanders appointees, Clinton appointees and three members from the Democratic National Committee.
The commission had four agenda items to tackle: the controversy over unpledged superdelegates in the nominating process, issues with state primaries, widening participation in state caucuses and general problems with the party
Members will gather Friday and Saturday in Washington, D.C., for a final meeting ahead of the Jan. 1 deadline to complete its recommendations.
Several members of the committee had told Mic in September that their work had been proceeding as planned. But as the committee moves toward its deadline, the situation appears to be strained.
In October, several Sanders appointees who had been tasked with coming up with "party reform" began using their positions on the committee to raise issues over how the DNC is run — arguing that opacity around how money is spent, and excessive reliance on outside consultants, partially led to the party's disastrous losses in 2016. In addition to losing the presidency, after the 2016 elections Democrats now only control 31% of state legislatures and only 16 governor's offices.
Soon after they began voicing those complaints, one prominent reformer and Sanders appointee, James Zogby, the president of the Arab American Institute, was demoted from his position on the DNC's executive committee, which he held since 2001. The DNC denied any act of retaliation.
Next, Zogby and two other members of the commission were accused of attempting to oust three women from the DNC — including former DNC chair Donna Brazile. All three Unity Reform Commission members deny the charge.
That accusation appeared even stranger when a few weeks later, Politico published an excerpt from Brazile's book that appeared to affirm the reform-minded URC members' concerns about financial transparency and the influence of consultants. The excerpt also backs the claim that the Democratic Party "rigged" the primary for Clinton.
The commission will meet for the first time Friday since those allegations, and will take a final vote on their recommendations for reform.