Octavia Butler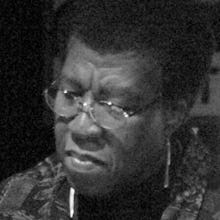 This article is part of the Black Monuments Project, which imagines a world that celebrates black heroes in 54 U.S. states and territories.
If a black hero in a major science fiction story still seems surprising — and major cause for celebration — that's because it was so rare as Skywalkers, Kirks or McFlys dominated popular culture. And as that finally changes, an enormous credit is due to Octavia Butler.
Octavia Estelle Butler was born in Pasadena, California, in 1947 to her parents, Laurice and Octavia M. Butler. She faced a unique set of challenges growing up: Her father died when she was young, and, despite loving books, she grew up with dyslexia. At the age of 10, she knew she wanted to be a writer. She graduated from Pasadena City College with an associate's degree, and also attended California State Los Angeles and University of California at Los Angeles.
At 29, Butler published her first novel, Patternmaster. The story about a telepathic race of people would be her first book of many.
Butler was known for creating science fiction stories, and many of her main characters were black women. She wrote with an eye toward social critique, masterfully examining the intersection of race, gender and power dynamics — all through a futuristic lens. Nowadays, big-budget science fiction like Star Wars and Star Trek include actors of color such as John Boyega and Zoe Saldana, respectively. Yet few popular science fiction tales, in the past and even now, make black individuals the primary character. In Octavia Butler's novels, this was usually the case.
"Butler wrote what she believed was important to write," Merrilee Heifetz tells Mic. Heifetz was Butler's literary agent for 18 years while the author wrote some of her greatest works. "She was black, she was a woman and she was writing science fiction. These were three areas at the time that were considered difficult to market to. Not only did she not pander, I'm not sure she even knew how."
Butler imagined worlds where black folks met aliens and traveled through time. Kindred, Parable of the Sower and her Xenogenesis trilogy of books are among Butler's most famous works. Though if you go far back enough, you'll run into older titles like her first story, an anthology piece from 1971 named Crossover. 
Like most sci-fi, Butler uses her books to take us places most readers can't go — space, for example, or the future. The difference here is that young readers who look like Butler can more easily identify with the multilayered black women characters in those stories. Like Kindred's Dana, who time travels to experience the past — a journey many stories would paint as fun — only to find out that she is a slave. Or Lilith Iyapo from Dawn (the first of the Xenogenesis books), who is tasked with reviving the human race. The story is set to be adapted to television by director Ava DuVernay.
The stories Butler penned were award-winning. She netted two Hugo Awards from the World Science Fiction Society and two Nebula Awards from the Science Fiction Writers of America. Other awards Butler received include a Locus Award, Science Fiction Chronicle Award and PEN American Center's lifetime achievement award. Butler was also the first science fiction writer to receive a fellowship from the MacArthur Foundation.
After releasing some of her biggest works, Butler moved to Seattle — bringing with her 300 boxes of books. It was here, in 2005, that Butler wrote Fledgling. The book centers on vampires — while most can only operate during the night time, Fledgling's main vampire Shori is shielded from the sun thanks to her dark skin, letting her thrive in daylight as well. The book was Butler's final one.
In her later life, Butler had hypertension and other ailments. She died in February 2006 at 58 years old. Posthumously, Butler was inducted into the Science Fiction Hall of Fame and was also given the Solstice Award by the Science Fiction & Fantasy Writers of America in 2012. 
Butler's influence, like some of her best characters, will go beyond her world and ours. As sci-fi author N.K. Jemisin told Mic, "Octavia Butler's success in the genre showed me that I could succeed too, and remain unapologetically black in the process."