Cathay Williams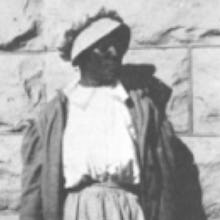 This article is a part of the Black Monuments Project, which imagines a world that celebrates Black heroes in 54 U.S. states and territories.
Cathay Williams broke the rules of the U.S. Army when she disguised herself as a man and switched her name to "William Cathay" to enlist on Nov. 15, 1866, according to the National Park Service. At this time, women were not allowed to serve, and she made history to become the first black woman on record to join the Army.
Williams was born in September 1842 in Independence, Missouri. Williams' mother was enslaved and her father was a free man. She was a house slave, but Union soldiers freed her and she became a paid servant for the Army, working as a washer and cook. She traveled with General Phil Sheridan and witnessed combat, including the Battle of Pea Ridge in March 1862.
Two years later, Williams passed an Army physical exam and joined the 38th U.S. Infantry. Her motivations to join was partly financial. "I wanted to make my own living and not be dependent on relations or friends," she told the St. Louis Daily Times in January 1876.
While serving in Fort Union and Fort, New Mexico, Williams got smallpox, recovered and returned to the Army. But after a subsequent hospitalization, her cover was blown, and she was discharged in 1868. She then became the first woman to join the buffalo soldiers, who were black peacetime soldiers.
After Williams left the Army, she moved to Fort Union, New Mexico, and then Pueblo, Colorado, where she experienced a series of unfortunate events. In Pueblo, she married, but her husband stole her valuables. After having him put in jail, she relocated to Trinidad, Colorado.
Around 1890, Williams was denied veteran disability benefits. In 1893, after being diagnosed with diabetes and neuralgia, she was again denied benefits. It is believed that she died in 1894. Although Williams served her country honorably, at the end of her life the military offered her nothing.
In 2016, the state of Kansas unveiled a bronze bust of Williams at the Richard Allen Cultural Center and Museum. Much of the soldier's military work was done out West. With the notion of erecting a full statue in her honor, the Black Monuments Project aims to further acknowledge Williams and her history-making feat.