After Al Franken's resignation, Republicans are in a bind with accused child molester Roy Moore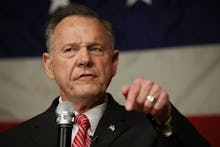 Minnesota Democratic Sen. Al Franken's announcement of his resignation on Thursday in the wake of a sexual harassment scandal could not have come at a worse time for Alabama Republicans, who are hoping that their Senate nominee Roy Moore, can overcome allegations of child molestation to win a special election on Tuesday.
Democrats on Wednesday pushed Franken to resign after a seventh woman came forward to accuse Franken of trying to kiss her.
The allegations against Franken are far less severe than those against Moore, which most damningly include molesting a 14-year-old girl, in addition to dating other teenage girls when he was in his 30s. However, prominent Republicans including President Donald Trump himself have stuck by Moore's side and endorsed his candidacy. On Thursday, the Republican National Committee rejoined Moore, reinstating get-out-the-vote funding, weeks after cutting ties with the candidate.
Polling this week shows that Moore may be overcoming the nearly month-old allegations in his race for the Senate seat. However, Franken's resignation is bringing the narrative back to the forefront in the final days of the race, as local news outlets are covering the Franken resignation in the context of the more severe allegations Moore is trying to downplay.
"My sense is that these issues of inappropriate and predatory sexual behavior being front-and-center again as voters make their final decisions in Alabama is bad for Moore," Zac McCrary, a Democratic pollster in Alabama, told Mic on Friday. "Especially now that high-profile Democrats have been forced to step down, it puts Moore on even more of an island as someone refusing to acknowledge his actions."
It's not only child molestation allegations that could kneecap Moore in the final days of the contest, where he's trying to overcome Democratic nominee Doug Jones. Past anti-gay and racially charged comments Moore and his campaign aides have made are now being dredged up.
These include a comment Moore made in September when he said that the last time America was great was during the period of slavery.
Moore also said that America is a force for "evil" in the world. "We promote a lot of bad things," he told the Guardian, saying those "bad things" are same-sex marriage.
Meanwhile, some Republican leaders are distancing themselves from Moore, including Sen. Cory Gardner (R-Colo.), chair of the National Republican Senatorial Committee, who said his committee will never support Moore.
"Roy Moore will never have the support of the senatorial committee," Gardner told the Weekly Standard. "We will never endorse him. We won't support him. I won't let that happen. Nothing will change."
However Trump and the Republican National Committee — the highest profile Republicans — are wholeheartedly backing Moore. Trump is even headed down to the Alabama border to hold a rally Friday night, where it's possible he will make a fresh full-throated pitch for Moore's candidacy in the closing days, giving Moore a boost in a state where Trump remains popular.
Still, Democrats say they still have a shot to defeat Moore on Tuesday.
Jones has been running ads showing prominent Alabama Republicans saying they believe the allegations against Moore, including former Alabama Senator-turned-Attorney General Jeff Sessions, Sen. Richard Shelby and Gov. Kay Ivey.
"When you have Sessions, Shelby, Kay Ivey, and other Republicans making a point to say they believe the women making allegations against Moore, any injection of the larger issue of sexual misconduct can't be what Moore wants on voters' minds as they enter the polls," McCrary said.