WH says it's "unfortunate" John Lewis won't go to civil rights museum opening honoring John Lewis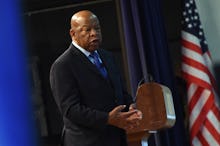 Reps. John Lewis and Benny Thompson announced on Thursday that they won't be attending the opening of a civil rights museum in Mississippi because they refuse to share the stage with President Donald Trump, who will also be in attendance.
"After careful consideration and conversations with church leaders, elected officials, civil rights activists and many citizens of our congressional districts, we have decided not to attend or participate in the opening of the Mississippi Civil Rights Museum," Lewis (D-Ga.) and Thompson (D-Miss.) said in a joint statement. "President Trump's attendance and his hurtful policies are an insult to the people portrayed in this civil rights museum."
In response, White House press secretary Sarah Huckabee Sanders said it's "unfortunate" that Lewis and Thompson "wouldn't join the president in honoring the incredible sacrifice civil rights leaders made to right the injustices in our history."
"The president hopes others will join him in recognizing that the movement was about removing barriers and unifying Americans of all backgrounds," Sanders went on to say in the statement.
From the statement, it's unclear whether Sanders realizes Lewis is a civil rights icon himself.
Lewis was not only a leader in the civil rights movement, he was one of the "big six" leaders who helped organize the famous March on Washington, where Martin Luther King Jr. delivered his famous "I Have a Dream" speech.
Lewis also helped organize the march from Selma to Montgomery, Alabama, and was beaten during one march in an event now known as "Bloody Sunday."
The Congressional Black Caucus issued a statement calling Sanders' comments "laughable."
"It's laughable that the White House is criticizing John Lewis and Bennie Thompson for not attending the opening of a civil rights museum that honors the sacrifice of ... wait ... John Lewis, Bennie Thompson and many others," the CBC said in a statement.
"This White House is not serious about civil rights," the CBC statement continued. "From dismantling the civil rights division in [the Department of Justice] to equating peaceful people who protested racism to Neo-nazis and white supremacists, they just don't get it."
This is not the first time the White House has feuded with Lewis.
After Lewis refused to attend Trump's inauguration in January, Trump attacked Lewis on Twitter.