Sexual assault lawsuit against Bryan Singer follows years of allegations and rumors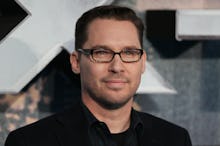 Bryan Singer became the latest powerful man in Hollywood to face allegations of sexual misconduct Thursday when a lawsuit was filed alleging the X-Men director raped a 17-year-old boy in 2003.
According to the lawsuit, Singer assaulted Cesar Sanchez-Guzman on a yacht in Seattle, initially forcing him to perform and receive oral sex before anally penetrating him. The director then said he could "help Cesar get into acting as long as Cesar never said anything about the incident" before threatening to ruin Sanchez-Guzman's reputation should he report the assault, the lawsuit alleges.
Singer's credits as a director include the X-Men franchise and the film The Usual Suspects, for which actor Kevin Spacey — who is currently facing his own allegations of sexual abuse — won an Academy Award. Most recently, Singer was fired from his position as director of the upcoming Freddie Mercury biopic Bohemian Rhapsody. Though his termination was reported as being due to a series of confrontations with star Rami Malek, the director claimed he was let go after taking time off to care for a sick parent.
Unlike some others who are now facing their first public accusations of sexual misconduct, however, Singer's alleged abuse of young men is really no secret in Hollywood, with Sanchez-Guzman's lawsuit being just the latest in a series of lawsuits against him.
Past allegations against Singer
Singer, who is openly bisexual, has long faced rumors about his sexual misconduct and preference for young men. In 2014, both BuzzFeed and Gawker published articles focusing on Singer and his reportedly drug-fueled parties that were attended by a bevy of young gay men. The reports included allegations that Singer rewarded or promised some of those men with professional roles in exchange for their association with him.
In 2016, actor Noah Galvin alluded to Singer's behavior during an interview with New York magazine. When asked if there was an "industry network" of gay men, Galvin responded: "Yeah. Bryan Singer likes to invite little boys over to his pool and diddle them in the fucking dark of night."
The quote was later removed from the interview and Galvin issued an apology, saying his comments were "false and unwarranted."
On several past occasions, Singer's behavior progressed from mere rumors into specific allegations via lawsuits filed against him. In 1997, three underage boys who served as extras in Singer's film Apt Pupil filed two separate lawsuits claiming trauma after filmmakers allegedly ordered the minors to strip naked for a locker room scene. The filmmakers were charged with "infliction of emotional distress, negligence and invasion of privacy," among other things, according to Entertainment Weekly.
Singer faced two additional lawsuits in 2014. Michael Egan filed a lawsuit against Singer and other Hollywood executives in April of that year, alleging the director had repeatedly raped him and forced him to inhale cocaine at parties in 1999, when Egan was 17 years old. Singer reportedly promised Egan potential employment opportunities in exchange for his cooperation.
A second lawsuit filed in May 2014 by a British plaintiff identified only as "John Doe No. 117" alleged Singer had sexually abused the then-16-year-old in a London hotel suite after Broadway producer Gary Goddard lured him there.
Singer has never admitted guilt as a result of the lawsuits, all of which were eventually dropped. The Apt Pupil lawsuits were dismissed due to lack of evidence, while Singer's accusers withdrew the two 2014 lawsuits, the Daily Beast noted. Egan's former attorneys issued apologies to several other Hollywood figures named in the lawsuit for Egan's "untrue" claims, and Egan was later sentenced to two years in prison for an unrelated fraudulent investment scheme.
Singer invoked Egan's dropped charges in his response to Sanchez-Guzman's lawsuit. Sanchez-Guzman is being represented by Jeffrey Herman, the same attorney who represented Egan in 2014.
"Bryan categorically denies these allegations and will vehemently defend this lawsuit to the very end," a representative for Singer said in a statement quoted by Variety. "Cesar Sanchez-Guzman apparently claims that he did not remember this alleged incident from 2003 until now. Significantly, when Sanchez-Guzman filed for bankruptcy only a few years ago, he failed to disclose this alleged claim when he was supposed to identify all of his assets, but conveniently, now that the bankruptcy court discharged all of his debts, he is able to recall the alleged events.
"The attorney behind this lawsuit is the same lawyer who represented Michael Egan, the convicted felon who sued Bryan Singer in 2014. In the end, Egan was forced to dismiss that case once the facts came out and his story completely fell apart. Egan and his attorneys then found themselves as defendants in a malicious prosecution action brought by some of the individuals who Egan previously sued. In an apology to those individuals, Egan's attorney acknowledged the claims that had been filed were 'untrue and provably false.'
"Notwithstanding his track record, this same lawyer is coming after Bryan again. We are confident that this case will turn out the same way the Egan case did. And once Bryan prevails, he will pursue his own claims for malicious prosecution," the statement concluded.
Renewed interest in Singer's misconduct
As allegations continue to mount against numerous powerful men — both in politics and in the entertainment industry — in the wake of explosive reports regarding Hollywood mogul Harvey Weinstein, many have been waiting for Singer's alleged patterns of sexual misconduct and assault to resurface. The director's name trended on Twitter when allegations against Spacey began emerging, with users bringing up Singer's own reputation for similar behavior.
Twitter user Justin Smith made another accusation against Singer in early November. In a now-deleted Twitter thread, Smith described being sexually assaulted by Singer after befriending the director through his boyfriend.
"I never went to any of Bryan Singers' 'private parties,' but I guarantee the stories of the young men who say they were raped are true. I witnessed the beginning of many of these nights. I wish I would've loudly objected to what I saw happening," Smith wrote, as quoted by the Daily Wire.
"I also wish I would've had the courage to speak out when he sexually assaulted me. It didn't benefit me at all to stay silent, all it did was allow myself to become disillusioned and bitter. I hope telling this story helps. Not just me, but anyone else who's struggling," Smith added in a later tweet.
The accusations against Singer do seem to be resulting in potential consequences, however minor. Students from the School of Cinematic Arts at the University of Southern California in Los Angeles have started a petition asking that Singer's name be removed from the school's Division of Cinema and Media Studies.
The petition, which has garnered over 4,300 signatures as of this writing, is being "taken very seriously" by USC, the school said in a statement. The university previously took a stand against alleged abusers when it rejected a donation made by Weinstein in October.
"Sexual harassment and assault are prevalent issues in Hollywood, the entertainment industry and the American workplace as a whole, and they require action to catalyze change, little by little. By continuing to associate Mr. Singer's name with our university, USC is openly supporting a man who has been publicly accused of reprehensible sexual misconduct," the USC students wrote in the petition.
"Our university should promote education, respect and consent as well as prepare its students to be model members of the USC and entertainment communities, and this continued relationship with Mr. Singer publicly negates those values."