3 challenges to any potential diplomatic talks between the US and North Korea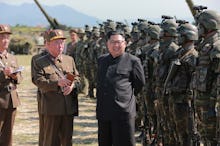 North Korea may be ready to talk to the United States.
That's according to Russian foreign minister Sergey Lavrov, who on Thursday told Secretary of State Rex Tillerson that the Kim regime has indicated it may be willing to come to the negotiating table.
The possibility of deliberations provides a glimmer of hope that tensions between the U.S. and the Korean peninsula, which have been escalating for months, could be somewhat relieved.
But a number of challenges also loom over the potential talks, threatening to derail the fragile diplomacy before it even gets going.
Here are the issues facing the potential negotiators:
1. North Korea doesn't want to disarm
The U.S. has long pushed North Korea to abandon its nuclear program.
But Pyongyang has refused to do so "unless the U.S. hostile policy and nuclear threat to the [Democratic People's Republic of Korea] are definitely terminated," analyst Robert Carlin noted, citing remarks Kim made over the summer.
As Ramon Pacheco Pardo, co-director of the London Asia Pacific Centre for Social Science at King's College London, wrote in April, the Kim regime seems chiefly concerned with both its survival and being regarded as "normal."
"The Kim Jong Un regime wants to make clear that the U.S. and other powers have to deal with North Korea as it is, instead of thinking about a possible future under a different government," Pardo wrote for the Telegraph.
Lavrov cited North Korea's desire for "security" in remarks at an international conference in Vienna on Thursday, suggesting the isolated regime may consider coming to the negotiating table if it does not feel threatened.
"We know that North Korea wants above all to talk to the United States about guarantees for its security," Lavrov said. "We are ready to support that. We are ready to take part in facilitating such negotiations."
2. The U.S. doesn't want a "freeze-for-freeze" deal
Because of the Kremlin's apparent role in opening up North Korea to negotiations, it's likely the discussions would include the "freeze-for-freeze" agreement both Russia and China have been pitching — but it's unlikely Washington will soften its opposition to any deal that would require it to lessen pressure on Pyongyang.
Under such a deal, the Kim regime would halt its nuclear testing if the U.S. and South Korea agreed to suspend military exercises in the region and ease economic and military pressure on the North.
There are pluses and minuses to the proposal. On one hand, it could be a way to get negotiations started and allow the U.S. and North Korea to avoid war, the potential for which national security adviser H.R. McMaster recently said is "increasing every day."
But on the other hand, it could also diminish the U.S. alliance with South Korea and allow Kim to "advance research and development for other aspects" of the country's nuclear program, as Robert Williams, executive director of the Paul Tsai China Center at Yale Law School, noted for Lawfare in August.
"In sum, 'freeze-for-freeze' alone is not a viable path to bringing North Korea to the table for serious negotiations," Williams wrote. "A key additional ingredient is Chinese leverage and increased pressure through economic sanctions."
The U.S. has not been amenable to the idea. President Donald Trump in November said such a plan was "unacceptable" and that North Korea merely ceasing testing was not enough — the country has to "denuclearize."
"We agreed that we would not accept a so-called freeze-for-freeze agreement like those that have consistently failed in the past," Trump said Nov. 16, falsely claiming China had agreed to drop the plan.
3. Trump and Kim complicate diplomacy
Of course, Trump and Kim themselves threaten to undermine diplomatic efforts between the their countries. The two have been engaged in a war of words for months, with the leaders trading both personal insults and grave threats.
Kim has called Trump, among other things, a "dotard." Trump has mocked Kim as "little rocket man" and called him "short and fat" in a tweet.
The surreal playground taunts between Trump and Kim led to the regime threatening the U.S. president with a "death sentence." It has also threatened to nuke the U.S. territory of Guam.
Trump, meanwhile, threatened to "totally destroy" North Korea over the provocations during a speech before the United Nations General Assembly in September, which led the country's foreign minister, Ri Yong Ho, to vow that an attack on the U.S. mainland had become "inevitable."
Some of this might be bluster on both sides — neither the U.S. nor North Korea wants the situation to escalate into nuclear war. But that doesn't mean the reckless rhetoric is without possible consequences.
Trump previously stated in a tweet that Tillerson was "wasting his time" in pursuing negotiations on the peninsula, seemingly undermining his own administration's attempts at diplomacy.
He has also suggested — again, in a tweet — that there was no diplomatic solution in North Korea, writing in October that "only one thing will work" in dealing with the country, suggesting he may be planning a military strike.
Trump's inexperience, unpredictability and mixed messages on North Korea have added another layer of uncertainty to an already volatile situation.
As Kevin Gray, a senior lecturer in international relations at University of Sussex, said in an interview with Mic in August, Trump's threats could heighten hostilities between the two countries at the same time diplomats are seeking to defuse the situation.
"If North Korea's actions are primarily driven by its sense of insecurity driven by a strong U.S. military presence in Northeast Asia," Gray said, "the prospects of a cycle of threat and counter-threat by the U.S. could be very dangerous."
Or, as the Guardian put it in its report Thursday, the rhetoric and tensions may lead the two sides to "blunder into war through miscalculation, mistaking war games for a real attack or misreading blurred red lines."