While You Weren't Looking: 5 stories you may have missed while sexual harassment roiled DC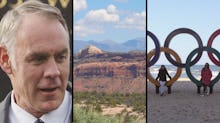 Three members of Congress announced their resignations this week amid a spate of sexual harassment allegations — which has become an ongoing scandal that for weeks has been at the forefront of national news.
While the country was watching and waiting to see who would be the latest elected official to be taken down by sexual harassment, a number of other important stories, with wide implications for everyone, largely flew under the radar. Here's a look back.
Trump administration diminishes baggage fee transparency
In a move that could impact thousands of travelers, the Department of Transportation revoked two proposed Obama-era rules that would require airlines to disclose baggage fees at the start of the ticket-buying process, the Associated Press reported Thursday.
While airlines must make their baggage fees public, they aren't required to disclose the cost until consumers enter the ticket-buying process.
Consumer groups say the proposed rule would have made the fees more transparent. Democrats condemned the department's move.
"Unbelievable," Sen. Richard Blumenthal (D-Conn.) tweeted. "Pulling the plug on rules that would ensure airlines are open and honest about bag fees and other charges is about as anti-consumer as it gets. The Trump admin's reckless reversal is a gift for the airlines' bottom line — and a slap in the face for travelers who deserve clarity when buying a ticket."
Trump drastically reduced the size of protected land in two national monuments
President Donald Trump announced Monday the largest reduction in federally protected land in U.S. history, slashing the size of two national monuments in Utah by 2 million acres.
Trump cut the size of the Bears Ears National Monument by 85%, and Grand Staircase-Escalante by nearly half.
Environmentalists and tribal groups fear that cutting the size of the monuments will open them up to commercial activities such as mining and drilling. This could put the monuments at risk.
Some Native American tribes and environmental groups have already filed suit, saying Trump's decision violates the Antiquities Act of 1906.
"The president was plainly aware that he lacked the authority to revoke a monument and is thus transparently attempting to evade that strict limitation by purporting to reduce it but, as described herein, the president's action must be viewed as a revocation, particularly with respect to all objects not included in the two 'new' monuments," the lawsuit says.
Trump justified the decision by saying he gave the land back to the state, which he says knows best how to conserve it.
"The families and communities of Utah know and love this land the best, and you know the best how to take care of your land," Trump said in a speech announcing the decision. "You know how to protect it. And you know best how to conserve this land for many, many generations to come."
Trump's interior secretary reportedly spent thousands in taxpayer money on helicopter rides
Yet another transportation scandal is brewing in the Trump administration.
Politico reported Thursday night that Interior Secretary Ryan Zinke spent more than $14,000 to fly to events around the nation's capital.
A June 21 helicopter flight to take Zinke from Washington, D.C., to an emergency management exercise in West Virginia cost $8,000, according to Politico. Zinke was in Washington to attend the swearing-in ceremony of Rep. Greg Gianforte, the Montana Republican who won Zinke's House seat despite body slamming a reporter.
Another flight on July 7 cost around $6,250 for Zinke to fly back to Washington from Virginia to go horseback riding with Vice President Mike Pence, Politico reported.
Zinke is the latest administration official to be hit with questions about their transportation spending. Tom Price resigned as secretary of the U.S. Department of Health and Human Services for taking private jets, despite the availability of far cheaper commercial transportation options.
Treasury Secretary Steve Mnuchin also spent hundreds of thousands of dollars on private jet travel, including one that gave him a view of the solar eclipse over the summer.
Trump administration suggested U.S. may not go to the Winter Olympics — then walked it back
Winter Olympians got a scare this week when multiple members of the Trump administration suggested the United States may not send its athletes to the upcoming games in Pyeongchang, South Korea.
On Wednesday, United Nations Ambassador to the United States Nikki Haley said it was an "open question" whether the U.S. would go, given the escalating tensions with North Korea.
And on Thursday, White House press secretary Sarah Huckabee Sanders told reporters that "no official decision has been made" on whether the U.S. will participate.
Shortly after, however, Sanders walked back her statement, saying the U.S. "looks forward to participating in the Winter Olympics in South Korea."
U.S. athletes can breathe a sigh of relief that they will be able to go to the Olympics in a few months — at least for now.
Despite its mortgage lending fiasco, Trump administration might lift sanctions on Wells Fargo
Banks that were set to be sanctioned by the Consumer Financial Protection Bureau could see those sanctions dropped, now that the bureau is under new control.
According to Reuters, the CFPB may drop sanctions for Wells Fargo, which the bureau says inappropriately charged borrowers fees for mortgages.
That's because the CFPB — set up in the wake of the 2008 financial crisis to protect consumers from predatory lenders and banks — is now under the control of of Mick Mulvaney, Trump's budget director.
Mulvaney said he's reviewing the CFPB's past work. Prior to becoming its acting director, he called the CFPB a "sick, sad" joke.
On Friday, shortly after the report, Trump announced that Wells Fargo wouldn't see their sanctions dropped.
"Fines and penalties against Wells Fargo Bank for their bad acts against their customers and others will not be dropped, as has incorrectly been reported, but will be pursued and, if anything, substantially increased," Trump tweeted. "I will cut Regs but make penalties severe when caught cheating!"