5 ways to help rebuild the Caribbean after the hurricanes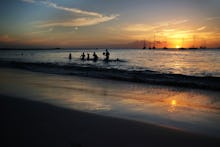 After the double destruction of hurricanes Irma and Maria in September, islands in the northern Caribbean were devastated — and many still haven't recovered. The impact of the storms is likely to be felt for years to come, affecting the economy in many tourism-reliant islands.
As temperatures drop and the giving season begins, the impulse to help out in the Caribbean (and escape to warmer weather) makes the region a surprisingly excellent winter travel getaway. Do your research, register with an organization and then head down south. Here's how you can help.
Book a trip
As the Caribbean Travel Organization put it, "the best way to help the Caribbean is to visit the Caribbean." Simply booking a trip this winter is one sustainable way to make an economic impact. Those with the intention to volunteer while traveling, however, should never self-deploy. According to the Federal Emergency Management Agency, an unexpected arrival in a disaster area "creates additional burden for first responders."
Shop local
An estimated 95% of homes and businesses were damaged or destroyed on Barbuda after Hurricane Irma, according to the New York Times. The entire island was evacuated, with citizens returning only to find themselves displaced.
One of the best ways to help rebuild Barbuda is to visit and support local businesses that have reopened.
Volunteer in local communities
Travelers who stay at a Sandals or Beaches Resort — located in Jamaica, Antigua, St. Lucia, the Bahamas, Grenada and Barbados) can turn their vacation into a "voluntourism opportunity," Karen Zacca, projects manager for the Sandals Foundation, said in an interview.
The resort company's philanthropic arm "focuses on programs and initiatives in the areas of education, community and the environment and operates on eight Islands across the Caribbean," Zacca said.
Guests at a Sandals or Beaches resort can visit a nearby "adopted school" with the Reading Road Trip program and spend a morning assisting local children with literacy skills, or go diving in marine sanctuaries and help maintain coral nurseries in Jamaica and St. Lucia. With notice, the foundation can also personalize volunteer experiences for guests.
In Barbuda, those who want to volunteer can register interest with the Antigua & Barbuda Red Cross. Volunteers at a temporary camp on the island are distributing emergency supplies to families displaced by the hurricane.
Bring along an extra suitcase packed with supplies
Those who are looking to maximize their impact on the ground can bring an extra suitcase full of supplies down to affected areas. Not Just Tourists and Pack for a Purpose are two organizations which link travelers to local medical clinics or organizations where they can deposit much-needed supplies. Travelers should reach out to airlines before departure. JetBlue will offer free checked bags (on a case-by-case basis) for passengers bringing supplies.
Lend a hand to vulnerable areas
Voluntary Organizations Active in Disaster is a collaborative effort between FEMA, the American Red Cross, Salvation Army and several other charitable organizations. Applicants can register to volunteer in ongoing relief efforts in Puerto Rico, Texas, the U.S. Virgin Islands and Florida.
The two hurricanes created an estimated 1.1 million cubic yards of debris, according to FEMA, and $5.5 billion in infrastructure damage in the U.S. Virgin Islands. Residents in the Virgin Islands are still without power. The Virgin Islands Water and Power Authority reports a best case scenario of restoring power to 90% of residents by Christmas.
Since the hurricanes, All Hands Volunteers (now All Hands and Hearts — Smart Response) has rebuilt schools, removed debris and provided sanitation systems to damaged buildings. "At this time, we are still accepting applications for volunteers, as we plan to be there for at least two years and need help with all the work mentioned above," a spokesperson for the organization said in an email interview.
Habitat for Humanity is seeking volunteers to rebuild homes in Texas, Florida and Puerto Rico that were damaged during the hurricane.
The situation in Puerto Rico remains a humanitarian crisis, with about 30% of residents still without power, according to the government. However, with hotels and cruise ports reopening, it's easy to visit and arrange volunteer experiences.
The organization Para la Naturaleza created the Para la Naturaleza Community Fund, or the Community for Nature Fund, earlier this year in response to Hurricane Maria. Volunteers with the program will help provide community centers with sustainable resources, including water filtration systems and solar power. There are also opportunities to replant trees struck down by the hurricane and participate in citizen science, monitoring wildlife like iguana.
Travelers can also check with their hotels about hyper-local volunteer opportunities.
Nov. 10, 2015, 11:32 a.m.: This story has been updated.