Should we be actively labeling trans models as "trans?"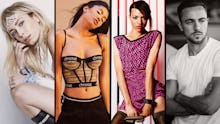 This year was a banner year for out transgender models in fashion, with more walking in Fashion Month and popping up in countless major ad campaigns than ever before.
So now comes the conversation on how exactly we — the press — talk about these models. On one hand, we want to highlight the importance of their presence — that these models are routinely making history by, for example, being the first trans model to appear in a PETA campaign or the first trans model of color to be featured in Vogue India.
But by labeling them as "trans models" and not just "models," is that unfairly separating them from all other models? By making a point to mention that these models are trans, are we ruining the chances for trans models to be completely normalized within the industry?
Among trans models, opinions are split. Some embrace the label and the attention it's given them. Others think it's unnecessary, and would like to be considered just "models" and not "trans models." To open up this issue, Mic spoke to four models who are transgender, and are similarly split between not really caring about the modifier and wanting it for various, critical reasons.
For Loiza Lamers, who made history as the first trans model to win Holland's Next Top Model in 2015 and has appeared in campaigns for PETA and Diesel, the "trans" modifier sends a signal to the fashion industry as a whole that she and her peers should be respected.
"In this industry trans is not completely accepted," Lamers explained. "And there are a lot of trans models who are signed with agencies but don't dare to come out as being trans because they fear that they won't have work, and that's ridiculous. So me being trans and being a trans model, I hope I will be more visible for other trans models to come out and for the industry to accept us more."
But for Benjamin Melzer, who appeared in ads with Lamers for PETA and Diesel, he doesn't see it as that important. What matters is getting booked as models, based on skill alone, regardless of their gender.
"[Do] I think identifying as a "trans" model is important?" Melzer said. "I would say, no, it's not important. At the end of the day, we want to get booked because we're great models."
For Arisce Wanzer, who appeared on Oxygen's Strut, she sees the label as her own form of personal activism, with her hoping that her visibility in the industry may help people who may be struggling with who they are.
"Being labeled a trans model, it doesn't bother me because for me it's my form of everyday activism," Wanzer said. "If I can help anyone in the world, like some trans kid anywhere on the planet, and they're seeing me do my thing and live my truest life as my most authentic self, that's what's gonna make my life. I want to help people. I want to show people that you can do whatever you want and that you can be whoever you want."
Growing up, Wanzer herself didn't have any role models who were trans who she could relate to. "All I had growing up on TV were women on Jerry Springer being called a man and us being the butt of every joke, from Ace Ventura: Pet Detective to Hannibal Lecter movies," Wanzer said. "Just men in dresses, like parading around and making us villains."
She noted that today's political climate has impacted her feelings about the label too.
"I think we need the label at the moment just because of the political climate," Wanzer said. "They keep trying to erase us and this is a time when we need to be louder and more in your face than ever because they keep trying to pretend like we're not here and take our voices away. So the more familiar people are that they know a trans person or have seen one before, the less threatening they're going to find us and the more they're going to know about us."
Leyna Bloom, who made history this year as the first trans model of color to ever appear in Vogue India and walked in shows like Chromat and the Blonds at New York Fashion Week, sees the "trans" label as an honor, and one that unites her with this movement to live truthfully.
"Honestly I feel like, right now, that label is very imperative," Bloom said. "I think that gives us our superpower. I'm so honored and liberated by me being trans. … You're always, regardless of what anyone says or doesn't say, you'll always be transgender. … I don't want to just be a regular person. ... When people see me I want them to be wowed. Like, 'She's fucking trans.' ... At the same time I'm a part of a movement that is much bigger than me."
What seems to matter here more than just the label's existence is each model's autonomy to define who they are. They have the final say when it comes to how they would like to be described, modifier or no modifier.