Why progressives are being cautious over who should replace Al Franken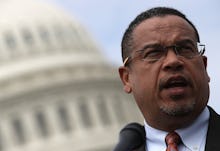 Progressive groups tend to cite several key champions in Washington. But aside from the usual suspects, like Bernie Sanders and Elizabeth Warren, one man in Washington often tops the list: Minnesota Rep. Keith Ellison.
Yet in the wake of Sen. Al Franken's announcement of his forthcoming resignation amid a sexual harassment scandal, the progressive set isn't exactly banging on Ellison's door.
While some are calling on Ellison to mount a campaign for the Senate seat Franken will vacate, many more progressive groups — including those who have been staunch Ellison backers in the past — are lying conspicuously low in what seems to be a largely unspoken view among Democrats that Franken's seat should be filled by a woman.
Ellison is indeed considering a run for the Senate, a source close to the congressman told Mic on Friday afternoon. That came after the Associated Press reported Minnesota Lt. Gov. Tina Smith, Gov. Mark Dayton's top choice to replace Franken, is also mulling a run for Franken's seat in the 2018 special election.
Smith was initially expected to serve as a placeholder and not seek election to fill the seat for the rest of Frank's term, which ends in 2020.
A six-term congressman from Minneapolis-St. Paul, Ellison supports "Medicare for all," increasing the minimum wage and protecting Medicare and Social Security, among other Democratic causes. Ellison supported Sanders in the presidential primaries and ran a bid for Democratic National Committee chair with support from union and progressive groups. As DNC deputy chair, he's tried to mend a frayed relationship between the DNC and progressive groups.
If he launches a bid, Ellison will certainly be seen as a frontrunner for the Senate seat in 2018. Meanwhile, three progressive organizations have begun building public support for Ellison to enter the race: Justice Democrats, National Nurses United and People for Bernie Sanders are circulating petitions that aim to "Draft Keith for Senate."
"It's about the person. It's never made sense to endorse a certain gender," Jean Ross, co-president of National Nurses United, a union of 155,000 nurses that supported Sanders for president and Ellison for DNC chair, said in an interview. "[Keith's] been through trial by fire. He's black. He's a Muslim. Go ahead, try and attack him. It's all out there."
Aside from those three groups, other progressive organizations have refrained from making public statements about the Senate seat beyond condemning Franken's behavior. That's not unusual — outside groups often wait to endorse a candidate until an official campaign has been announced.
NARAL Pro-Choice America staunchly supported Franken during his Senate career. The group didn't call for Franken's resignation until weeks after other progressive groups — like Indivisible, Credo and Ultraviolet, a women's progressive group — chimed in.
Ultraviolet co-founder Nita Chaudhary told the Huffington Post on Thursday that Dayton, Minnesota's governor, should appoint a progressive woman. Credo similarly called for Dayton to "appoint a progressive woman to replace [Franken]."
Neither NARAL nor Planned Parenthood responded to Mic's request for comment about whether a woman should fill Franken's seat, though NARAL endorsed Ellison's re-election bid in 2016 and the congressman has been a staunch defender of Planned Parenthood.
Progressive organizer Winnie Wong, co-founder of People for Bernie Sanders, supports the push for Ellison to run for Senate. Having him as a senator "would be huge," she said in an interview with Mic.
"If Keith Ellison runs for Senate in 2018, Bernie Sanders will back him. It's not rocket science," Wong said. "I can't imagine Warren will back a woman just because she's a woman — who's to the right of Al Franken."
Other progressive women, including Women's March national co-chairs Linda Sarsour and Bob Bland, have also come out in favor of Ellison.
Meanwhile, the Progressive Change Campaign Committee calls Ellison one of "our candidates" and lists him as the only candidate the organization backs in Minnesota. The PCCC previously ran a "Draft Warren" campaign that ultimately raised more than $1 million for the future Massachusetts senator's 2012 campaign.
A spokeswoman at the PCCC declined to weigh-in on the Senate race. On Thursday, the PCCC put out a statement calling for a progressive woman to fill out the remainder of Franken's term.
"It's been difficult to find a credible Senate candidate ... who's a woman and is progressive as Keith Ellison," one organizer who's pushing the congressman to run, and who requested anonymity, said. "Any neoliberal woman that the establishment puts up is a barrier. [But] I don't think he'd be willing to go up against any Democratic woman."
Clarification: This story has been updated to clarify the PCCC's stance on Franken's Minnesota Senate seat.