Republican congressman resigns amid reports he offered aide $5 million to carry his child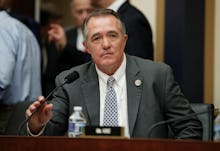 Rep. Trent Franks (R-Ariz.) resigned from Congress on Friday following reports he repeatedly asked two former staffers about acting as a surrogate for him and his wife, eventually offering one of them $5 million to bear his child, the Associated Press reported Friday.
According to Politico, the women were concerned Franks "was asking to have sexual relations with them" and said it wasn't clear whether the congressman wanted to impregnate them through intercourse or via in vitro fertilization.
One of the female staffers who declined his request said she was later retaliated against, Politico reported.
Franks admitted Thursday to "discussing surrogacy" with the staffers and originally said he would leave office Jan. 31, 2018. However, Franks abruptly announced Friday he would instead resign immediately — right before the AP and Politico published new reports about the aides' allegations — citing his wife's recent hospitalization for an "ongoing ailment."
"After discussing options with my family, we came to the conclusion that the best thing for our family now would be for me to tender my previous resignation effective today," Franks said in a statement.
Franks is the third member of Congress to resign in December over allegations of sexual misconduct.
Rep. John Conyers (D-Mich.) and Sen. Al Franken (D-Minn.) announced their resignations Tuesday and Thursday, respectively, amid a growing number of sexual harassment allegations.