CNN made a mistake. Trump responded in predictable fashion with Saturday morning Twitter rant.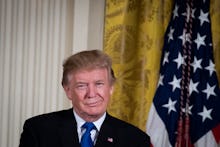 President Donald Trump wasted little time Saturday using a minor, but crucial, reporting error by CNN to launch another attack on the "fake news" media as a whole.
"Fake News CNN made a vicious and purposeful mistake yesterday," Trump tweeted early Saturday. "They were caught red handed, just like lonely Brian Ross at ABC News."
CNN reported Friday that the Trump campaign had received an email from WikiLeaks Sept. 4, 2016, providing them with hacked Democratic National Committee documents before they were released publicly — strongly suggesting collusion between Trump officials and the Russia-linked organization.
But the Washington Post obtained a copy of the email and found it was actually dated Sept. 14 — after WikiLeaks had already made the documents public.
CNN issued a correction and updated their story, but Trump claimed on Twitter that they had reported the date incorrectly on purpose. He also suggested that Brian Ross had also intentionally misreported on ABC News that he had ordered Michael Flynn to contact Russia during the 2016 campaign.
ABC News suspended Ross for the report.
"My job is to hold people accountable and that's why I agree with being held accountable myself," Ross tweeted Dec. 2.
Trump had previously applauded ABC News for suspending Ross, but on Saturday called for him to be "immediately fired."
He also mocked CNN's slogan — "the most trusted name in news" — by describing the network as the "LEAST TRUSTED NAME IN NEWS!"
The Post scolded CNN on Friday, writing that the network had given Trump new "ammunition" with which to attack the press — which he did Friday night at a campaign-style rally in Florida.
"CNN apologized just a little while ago," Trump said. "They apologized. Oh, thank you, CNN. Thank you so much. You should've been apologizing for the last two years."
Trump frequently describes news outlets and reports that he disagrees with as "fake news." Dictators around the world have reportedly begun using the phrase as well in an effort to discredit the press.
But, as the Post noted Friday, the network did not appear to have made the error on purpose — and the media corrects itself, unlike Trump, who frequently makes false statements and refuses to retract them.
"The 'fake news' label suggests intentional deception, but there is no evidence that this was anything but a mistake," the Post wrote. "Plus, the Post's report on the true date of the email is an example of how the press often polices itself."