Trump campaigns for Roy Moore, politicizes the holidays in Florida rally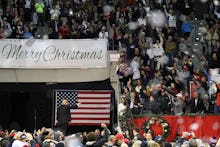 President Donald Trump attempted to mobilize his base in support of accused child molester Roy Moore Friday, offering his full-throated endorsement of the Alabama Republican at a campaign-style rally in Florida.
"We need somebody in that Senate seat who will vote for our Make America Great Again agenda," Trump said. "So get out and vote for Roy Moore."
Moore has been accused of pursuing multiple women while they were teenagers and he was in his 30s, and of molesting a woman when she was 14 years old.
While many Republicans called on the ex-judge to withdraw from the race for attorney general Jeff Sessions' former senate seat, Trump tacitly endorsed him before officially throwing the full weight of his support behind him.
He has repeatedly said Democrat Doug Jones would be a "puppet" for House Minority Leader Nancy Pelosi and Senate Minority Leader Chuck Schumer.
He resorted to similar talking points at the raucous Pensacola, Florida, rally on Friday.
"The future of this country cannot afford to lose a seat in the very, very close United States Senate," he said. "We can't afford it, folks. We can't. We can't afford to have a liberal Democrat who is completely controlled by Nancy Pelosi and Chuck Schumer. We can't."
Trump revives dopey "War on Christmas"
Trump also continued to politicize the holidays at the rally Friday, opening the rally by pointedly wishing his supporters a "very Merry Christmas" and promising tax cuts as a "Christmas present for the American people."
He campaigned on a promise that "we're gonna be saying Merry Christmas" if he became president rather than "Happy Holidays."
He also said in October that "nobody talks about Christmas anymore."
"Let me begin by wishing each and every one of you a very Merry Christmas," Trump said Friday. "I can think of no better Christmas present for the American people than giving you a massive tax cut."
A number of people in the crowd held signs with the words "Merry Christmas" on them.
The Florida rally concluded Friday night with fake snow falling over the crowd.