Trump calls Mississippi civil rights museum a "tribute to our nation" in controversial speech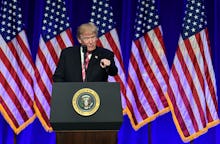 President Donald Trump praised those who fought for "equality, justice and peace" in an awkward speech at the opening of the Mississippi Civil Rights Museum on Saturday.
"Today, we strive to be worthy of their sacrifice," Trump said in Jackson, Mississippi. "We want our country to be a place where every child, from every background, could grow up free from fear, innocent of hatred and surrounded by love, opportunity and hope."
In his controversial address, Trump described the sacrifices of civil rights icons, including Medgar Evers, whose widow was in attendance, and said that they were an "inspiration."
"He was a great American hero," Trump said of Evers, the NAACP activist who was assassinated in 1963.
Trump, who was invited to speak at the opening by Republican Gov. Phil Bryant, toured the museum before he spoke and praised state officials for making it happen — and, not surprisingly, dropped a reference to his victory in the state in the 2016 presidential election.
"This is an incredible tribute not only to the state of Mississippi — a state that I love, a state where I've had great success," Trump said. "This is a tribute to our nation at the highest level."
Protesters say Trump "tainted" the museum
Trump's address was met with protests, where demonstrators said his presence had "tainted" the museum.
Trump has a long history of racism.
For years, he was the face of the birther movement, relentlessly promoting the racist conspiracy theory that Barack Obama — the nation's first black president — was not born in the United States.
He publicly acknowledged in September of last year that Obama was, in fact, born in the U.S., but has reportedly continued to doubt his predecessor's citizenship in private conversations.
He kicked off his presidential campaign by calling Mexicans "rapists," warning against "bad hombres" and promising to build a wall along the southern border of the U.S.
Trump also proposed banning Muslims from entering the country during the campaign and has targeted Muslim-majority countries with a controversial travel ban.
After a woman was killed at a white nationalist rally in Charlottesville, Virginia, the president blamed "many sides" for the violence and defended some of the so-called "alt-right" activists as "very fine people."
He has been accused of attempted voter suppression with his controversial voter fraud commission.
Many prominent white supremacists, including former KKK leader David Duke, have said that they feel energized by Trump.
"This is why WE LOVE TRUMP," Duke tweeted after the president shared graphic, unverified anti-Muslim videos from a right-wing British hate group.
The same week he tacitly endorsed the U.K. hate group, he drew ire for mocking Sen. Elizabeth Warren (D-Mass.) as "Pocahontas" during an event meant to honor Native Americans.
During his address Saturday, Trump praised Bryant, the state's Republican governor, who attended a segregated high school, created a Confederate Heritage Month in his state and is reportedly a member of the Sons of Confederate Veterans — a nativist neo-Confederate organization, according to the Southern Poverty Law Center.
The president did not appear nearly as comfortable reading his remarks on civil rights heroes Saturday as he did at a Florida rally the night before, during which he gave an unreserved endorsement of accused child molester Roy Moore — who suggested in September that America was last "great" during the time of slavery.
Protesters lined the streets as Trump arrived in Jackson on Saturday and several prominent civil rights leaders, including Rep. John Lewis (D-Ga.), boycotted the event.
"President Trump's attendance and his hurtful policies are an insult to the people portrayed in this civil rights museum," Lewis said in a joint statement with Rep. Bennie Thompson (D-Miss.). "President Trump's disparaging comments about women, the disabled, immigrants, and National Football League players disrespect the efforts of [civil rights icons] who have given their all for Mississippi to be a better place."