Alabama GOP senator says Senate will have to weigh Moore's "fitness to serve" if he wins election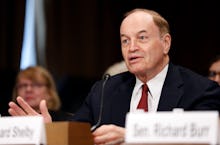 On Tuesday, Alabama voters will decide who will head to the U.S. Senate as Democratic nominee Doug Jones faces off against Republican candidate — and alleged sexual predator — Roy Moore. But while Moore is currently favored to win, his potential future Senate colleague is saying that it's still unclear what his fate will be once he arrives in the Senate.
In an interview on CNN's State of the Union Sunday, Alabama Sen. Richard Shelby said he "can't vote for Roy Moore" due to the allegations against him, preferring instead a separate write-in Republican candidate. The senator also made it clear that should Moore win, he may be subject to scrutiny — and possible expulsion — by his new Senate colleagues.
"Well, if he wins on Tuesday, the Senate ... will have to seat him, and we'll see what happens after that," Moore said Sunday, after host Jake Tapper brought up Sen. Cory Gardner (R-Colo.)'s statement calling on the Senate to expel Moore should he win.
When asked if it would be appropriate for the Senate to launch an ethics investigation into Moore, Shelby noted that he "understand[s] that's already in contemplation."
"That would be up to the leadership and others to do that. I think that the Senate has to look at who's fit to serve in the Senate," Shelby added.
The senator took a stronger stance later in the interview after Tapper brought up the recent resignation of Sen. Al Franken, posing the question of whether Democrats have a "higher standard" when it comes to responding to allegations of sexual misconduct.
"I believe whether you're a Republican, a Democrat, Independent, whatever you are, that you will not put up with the conduct, the bad conduct, from a Democrat or a Republican, and that's gonna be part of what's going to happen in the future," Shelby said. "The Senate's gonna have to weigh, if Roy Moore wins, his fitness to serve in the U.S. Senate,"
Though many Senate Republicans have come out against Moore in the wake of reports that he sexually assaulted and preyed on underage women, few besides Gardner have seriously discussed the possibility of expelling Moore should he take office, the Denver Post noted. An ethics investigation into Moore's behavior does seem likely, however, as Senate Majority Leader Mitch McConnell suggested Tuesday that Moore would "immediately" have an ethics case against him if he wins.
"I had hoped earlier he would withdraw as a candidate. That obviously is not going to happen," McConnell said Tuesday, according to the Los Angeles Times.
If Moore is elected, McConnell added, "he would immediately have an Ethics Committee case, and the committee would take a look at the situation and give us advice."