Report: Trump says Bernie Sanders would run in 2020, even if he's "in a wheelchair"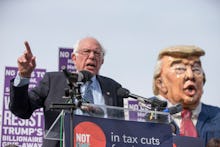 President Donald Trump hasn't been holding back in his comments about potential rivals in the 2020 presidential election, a new New York Times report on the president's behavior and routines in office alleges.
According to the Times, Trump "peppered" Democratic lawmakers with questions about the 2020 presidential election during a summer meeting, discussing potential candidates Sens. Bernie Sanders and Elizabeth Warren in less-than-presidential terms.
"Who is going to run against me in 2020?" Trump asked, according to the Times.
"Crooked Hillary? Pocahontas?" Trump added, using his preferred racist term for Warren, who is 1/32 Cherokee.
Trump then noted that Sanders would "definitely" run for president, "even if he's in a wheelchair." The president's comments were reportedly accompanied by him "making a scrunched-up body of a man in a wheelchair," the Times described.
Sanders, who unsuccessfully ran against Hillary Clinton in the 2016 Democratic primary election, has been addressing his political shortcomings in recent months, Politico reported, suggesting that he could be gearing up for a 2020 run. The Vermont senator will be 79 in 2020, while Trump, who is the oldest elected president in U.S. history, will be 74 during the 2020 election.
"Ageism is the last 'ism' that seems to be acceptable to people, and I never felt that it was whether somebody was too young or too old," Sanders' wife Jane told the New York Times in June, noting that her husband had not ruled out another presidential run. "You win some. You lose some. And you keep on going and maybe you can win the next one."
Whether Trump will seek re-election in 2020 still remains unclear, however, as even some of the president's Republican allies have cast doubt over his willingness and ability to run. Sen. Rand Paul said in October that there "could well be a [Republican] primary" and that Republicans "won't know" if Trump is seeking re-election until later in his presidency, while an August New York Times report alleged that several Republicans — including Vice President Mike Pence, Ohio Governor John Kasich and Nebraska Sen. Ben Sasse — are already mounting "shadow campaigns" for 2020.
"If he runs again, I would support him, yes, but I'm not so sure what will happen," New Jersey Governor and Trump ally Chris Christie said when asked if he would support Trump in a 2020 re-election bid during an October Today show appearance.
"Four years is a long time, and especially for someone who has not spent a lifetime in politics, so I think those years affect him differently. So I'm sure the president will make whatever decision is best for him and his family and the country," Christie added.