Nikki Haley says women accusing Trump of sexual misconduct "should be heard"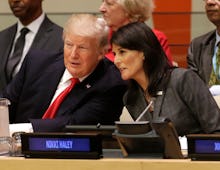 As sexual harassment and assault allegations continue to rock Washington, leading to the resignation of Sen. Al Franken and Reps. John Conyers and Trent Franks, many have been critical about President Donald Trump remaining unaffected by the nearly 20 women who have accused him of sexual assault.
A member of his administration, however, is now saying that those women, too, deserve to have their voices heard.
United Nations ambassador Nikki Haley discussed the ongoing wave of sexual misconduct allegations during an interview Sunday on CBS' Face the Nation, telling host John Dickerson that she is "incredibly proud of the women who have come forward."
"I'm proud of their strength. I'm proud of their courage. And I think that the idea that this is happening, I think it will start to bring a conscience to the situation, not just in politics, but in, you know, we've seen in Hollywood and in every industry," Haley said. "And I think the time has come."
When asked how people should "assess" Trump's accusers, Haley said that those women, too, "should be heard."
"Well, I mean, you know, the same thing, is women who accuse anyone should be heard. They should be heard and they should be dealt with. And I think we heard from them prior to the election. And I think any woman who has felt violated or felt mistreated in any way, they have every right to speak up," Haley said.
The U.N. ambassador also suggested that Trump's election doesn't necessarily mean that the allegations against him have been put to rest. When asked if Trump's win "settled" the matter, Haley responded: "You know, that's for the people to decide. I know that he was elected. But, you know, women should always feel comfortable coming forward. And we should all be willing to listen to them."
Despite the influx of allegations that came out against Trump prior to the 2016 election and him being caught on tape bragging about grabbing women "by the pussy," the now-president has remained relatively untouched by the allegations against him, even as similar allegations continue to take down powerful men in politics, media and the entertainment industry.
"You do wonder, how can the country forget about us?" said one of Trump's accusers, Rachel Crooks, to the New York Times.
One of Trump's accusers, Summer Zervos, is taking action, however, pursuing a defamation lawsuit against the president for decrying her and others' accusations as lies. The lawsuit, which the New York Times said may move forward by the end of the year, could reignite the allegations against Trump, as his victims could be deposed and allowed to have their day in court against the man who assaulted them.
"I feel this issue has been 'on hold' all year, but not forgotten," another accuser, Natasha Stoynoff, told People. "It's been simmering on the stove with the lid on, like a pressure cooker. But now the heat's on and it's going to boil and the lid is going to blast off."