Trump's decision to acknowledge Jerusalem as Israel's capital sparks global outrage, violence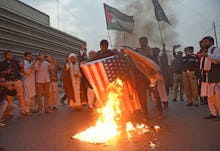 President Donald Trump announced a proposal Wednesday to move the United States embassy in Israel from Tel Aviv to Jerusalem, a controversial decision that officially recognized Jerusalem as Israel's capital in the eyes of the U.S.
In the days since Trump's announcement, his decision has sparked a global backlash, as leaders around the world decried the embassy move as a slight to the Arab world and threat to peace in the Middle East and counter-terrorism efforts. The Arab League said in a statement that the move was a "dangerous violation of international law," adding that Trump's decision "deepens tension, ignites anger and threatens to plunge the region into more violence and chaos."
The leader of Egypt's Coptic Church cancelled a meeting with Vice President Mike Pence in an act of protest, Al Jazeera reported, while Pope Francis said in a statement Sunday that he was praying for leaders to "avert a new spiral of violence" over the Jerusalem conflict.
Here are some of the protests and acts of violence that have occurred in the wake of Trump's decision.
Global protests
Trump's announcement incited a wave of protests around the world, as pro-Palestinian protesters took to the streets in cities from America to the Middle East.
Street protests continued for days in Palestinian territories, Reuters reported, and a "day of rage" on Friday produced riots and protests throughout the region that left one Palestinian dead — reportedly shot by Israeli troops — and hundreds wounded.
Though protests in the region were beginning to die down as of Sunday, Reuters noted, tensions were still escalating elsewhere around the world. Ten thousand protesters rallied Sunday outside the U.S. embassy in Jakarta, Indonesia, which is the most populous Muslim nation in the world.
In Lebanon, security forces used tear gas and water cannons on protesters outside the U.S. embassy, some of whom were trying to break through barricades and barbed wire to enter the embassy complex. Protesters denounced Trump and burned an effigy of the president as part of the demonstration, the BBC reported.
Demonstrations against Trump and the Jerusalem decision have been widespread, Al Jazeera noted, with similar protests taking place in Turkey, Egypt, Jordan, Tunisia, Algeria and Iraq, among other countries.
Closer to home, Trump's decision sparked a protest in New York City's Times Square Friday, where demonstrators chanted, "From the river to the sea, Palestine will be free."
A number of protests also took place in Europe in the wake of Trump's decision, including in Sweden, Rome, London and Berlin, where demonstrators burned American and Israeli flags outside the U.S. embassy Friday.
Demonstrators took to the streets of Paris Saturday, the Times of Israel reported, to protest both Trump's decision and Israeli Prime Minister Benjamin Netanyahu's Sunday visit to France. French President Emmanuel Macron has said that the country "does not approve" of Trump's decision to move the embassy, and Reuters reported that Macron is expected to work with Turkish President Tayyip Erdogan in an attempt to convince Trump to reconsider his decision.
The pro-Palestinian protesters, nevertheless, decried Macron as an "accomplice" for hosting Netanyahu in the wake of Trump's announcement, and the Paris branch of the Antifa movement called on supporters to protest "against the colonization of Jerusalem."
Act of terrorism in Jerusalem
Trump's Jerusalem decision has fueled the already high tensions between Israelis and Palestinians in the region. In addition to military attacks on both sides in the immediate wake of the Wednesday announcement, a 24-year-old Palestinian civilian committed their own act of violence Sunday against an Israeli security guard, Reuters reported.
The incident, which the Guardian noted is being described as a "terrorist attack" by police, occurred at a metal detector at the entrance to the central bus station in Jerusalem. The Palestinian man stabbed the security guard, who is now reportedly in critical condition.
According to the Guardian, the attacker was identified as Yasin Abu al-Qur'a, who is from the northern West Bank. In a Facebook post quoted by the Guardian that was posted prior to the attack, al-Qur'a wrote: "In your path, O homeland, O Jerusalem, O Al Aqsa, our blood is cheap," referring to the al-Aqsa Mosque in Jerusalem that has been a frequent source of contention.
Swedish synagogue attack
Acts of aggression weren't limited to the Middle East: Three people were arrested in Gothenburg, Sweden, Sunday for a Molotov cocktail attack on a local synagogue Saturday night. Though an attached community center was hosting a youth event at the time, no injuries were reported in the attack, and there was reportedly no damage done to the synagogue.
The attack followed anti-Semitic incidents in several other Swedish cities in the wake of Trump's Jerusalem decision. Demonstrators participating in a protest in Malmö, Sweden, reportedly carried anti-Semitic signs and chanted, "we want our freedom back and we're going to shoot the Jews." Anti-Semitic sentiment was also apparent at a protest in Stockholm, as protesters burned an Israeli flag.
"I am terribly upset by the attack on the synagogue in Gothenburg yesterday, and that violence against Jews was incited at a demonstration in Malmö," Swedish Prime Minister Stefan Löfven said in a statement, as quoted by the Local Sweden. "There is no place for anti-Semitism in Swedish society. Those behind it must be made responsible. All democratic forces must now work together for a tolerant and open society where everyone feels safe."
Though the motive behind the attack wasn't yet revealed to be specifically tied to Trump's Jerusalem decision, it is suspected that the two events are linked.
"When the USA decides to move the embassy to Jerusalem, that results, in the sick world we live in, in consequences for Jews living in Sweden," Willy Silberstein, the former chairperson of the Swedish Committee against Anti-Semitism, told a Swedish television station, according to the Local. "Swedish citizens become part of the conflict."