Mic Wakeup: Stop hitting snooze. Here's the news.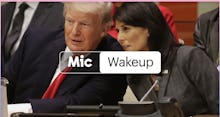 It's Monday. I know, I know. I'm sorry. Hope you enjoyed the snow this weekend! And if you didn't get snow, brace yourself: Winter is coming, even if Game of Thrones isn't.
Here's everything you need to know for Dec. 11.
Nikki Haley: Trump's accusers deserve to be heard.
In an appearance on CBS' Face the Nation, Ambassador Nikki Haley broke formation from other members of Trump's administration, arguing that the president's accusers had the right to be heard. It's a startling divergence from, say, White House press secretary Sarah Huckabee Sanders who said that the women who have come forward to accuse Trump of sexual assault are all lying. Watching Haley's exchange here.
Moore money, Moore problems
The Republican National Convention has resumed funding for beleaguered Senate candidate Roy Moore — but that doesn't mean his potential Republican colleagues will make this easy for him. On Sunday, Republican Sen. Richard Shelby of Alabama responded to remarks from his anti-Moore GOP colleague, Sen. Cory Gardner of Colorado, suggesting the Senate will have to measure Moore's "fitness to serve" if he wins the special election Tuesday. Here's how that shook out.
Trump reportedly mocks Bernie
According to the New York Times, at a meeting with Democratic lawmakers, Trump did a cruel impression what Independent Senator Bernie Sanders of Vermont might look like in a wheelchair. What allegedly spurred the mean imitation? 2020, of course.