Hype List: What to check out this week, including 'Star Wars: The Last Jedi,' Eminem and more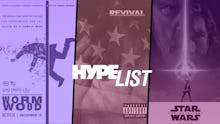 Welcome to the Hype List, a weekly recommendation series in which columnist Tirhakah Love highlights all of the pop culture happenings — movies, music, television, books and more — you need to know about.
Movie: Star Wars: The Last Jedi
Maybe you've heard of this upcoming release: The Last Jedi is the eighth entry in the proper Star Wars saga and the direct sequel to 2015's record-shattering installment, The Force Awakens. The middle child of this new trilogy, The Last Jedi picks up with Daisy Ridley's Rey after she's tracked down a reclusive and embittered Luke Skywalker (Mark Hamill, reprising the iconic role) in the hopes that he'll help her understand the Force and her connection to it.
Reviews have yet to surface, but this is probably going to be the biggest movie of the year no matter critics say. (And, anyway, the relative quiet surrounding the production is encouraging — writer-director Rian Johnson didn't seem to get caught up in the behind-the-scenes turmoil that's plagued other Star Wars directors recently.) This is a Star Wars film, so expect allegiances to be tested, melodramatic family dynamics and a bittersweet goodbye to Leia Organa — as far as we know, this will be the last time the late Carrie Fisher appears as the character on screen.
Star Wars: The Last Jedi will be released in theaters Friday.
TV: Wormwood
With acclaimed titles like The Thin Blue Line and The Fog of War under his belt, Errol Morris' documentary game is second to none. But his latest project, a six-episode miniseries for Netflix, isn't a straightforward documentary. Wormwood looks at the real-life story of CIA scientist Frank Olson, who fell to his death from a New York City hotel window in 1953, and his affiliation with the agency's MKUltra program, which experimented with LSD and mind control.
Interviews with Olson's son — who questions the official story that his father committed suicide — are intercut with scripted segments featuring Peter Sarsgaard that try to envision what Olson's last days were like. Morris uses this hybrid format to peel back the layers of a tragedy and potential cover-up that destroyed lives.
Wormwood will be released Friday on Netflix.
Music: Revival by Eminem
It's been a long minute since Eminem dropped revelatory music that truly moved the mainstream — approximately 15 years or so. Still, that doesn't mean the rapper's a slouch when it comes to sales, or that he's run out of things to say. On the contrary, our ongoing political turmoil has woken the Detroit giant out of his slumber; he had no shortage of insults to hurl at Donald Trump in his recent BET Hip Hop Awards cypher that went viral, and the cover art for his newest album, Revival, suggests Em will be weighing in on the state of our union. Subject matter aside, though, this record's sure to put a dent in the sales and streaming charts: Em's still plenty popular himself, and he's also working with a star-studded roster of guests, including Ed Sheeran, Alicia Keys, X Ambassadors and Beyoncé. Revival, indeed.
Revival will be released Friday via Interscope Records.
Podcast: Binge Mode
Leading up to the most recent season of HBO's Game of Thrones, the Ringer's Mallory Rubin and Jason Concepcion launched a podcast centered on a towering task: recapping every episode of the immensely popular (and dense) fantasy epic. Rubin and Concepcion are both GoT scholars, and their expertise came through as they unpacked and analyzed each episode's themes, characters and motifs, putting them in the context of the show's vast fictional history.
Now, after earning accolades on some year-end best-of lists, Binge Mode is back and focusing on a host of different pop culture properties. They'll be diving deep into the world of Harry Potter in the spring of 2018, but first will be weekly one-offs. The most recent episode focuses on the sci-fi/horror series Black Mirror, which is returning to Netflix for a fourth season on Dec. 29. Plug in and find out why Binge Mode is worthy of its own binge.
New episodes of Binge Mode are available every Thursday via the Ringer.
TV: Jean-Claude Van Johnson
Jean-Claude Van Damme returns to the spotlight with the new Amazon show Jean-Claude Van Johnson, a meta series that casts Van Damme as a fictionalized version of himself: a washed-up action star who's seen much better days, and who's also working as an undercover agent code-named Johnson. A mashup of comedy and action-drama, the vehicle lets the "Muscles from Brussels" poke fun at himself and the movie career that ground to a halt in the '90s.
"I told them I'd like to play with the notions of who he is and what he represents in the culture," Dave Callaham, the creator and showrunner, told the New York Times recently. "He was my favorite actor growing up, so I wanted to talk about the ups and downs of his career, and to do something that involved all those different worlds." Easter eggs, deadly kicks and self-deprecating bits will abound in this series that isn't quite like anything else on TV right now.
Jean-Claude Van Johnson will be released Friday on Amazon.
Music: No One Ever Really Dies by NERD
The seemingly ageless Pharrell is once again teaming up with NERD members Chad Hugo and Shay Haley to bring the genre-splicing band out of a seven-year hibernation. Their upcoming fifth album, No One Ever Really Dies, is a party of a record, and the guest list features a slew of stars, including André 3000, Kendrick Lamar and Ed Sheeran. Also present is Rihanna, who blesses lead single "Lemon" with her indelible rap flow.
That song also boasts the sort of space-age production that Pharrell and Hugo originally made their names on, so it's a safe bet that NERD's reunion album will fit nicely into their legacy. Of course, the trio's wonky blend of hip-hop, funk and rock has always teetered between cool and corny, and it's likely this new LP will follow suit (see: that Ed Sheeran cameo). But as long as these new songs get you dancing, this comeback will feel like a success.
No One Ever Really Dies will be released Friday via Columbia Records.