Mayor de Blasio calls Port Authority explosion an attempted terror attack; suspect in custody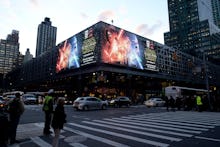 An explosion near New York City's Port Authority Bus Terminal snarled transit on Monday morning just as the workday commute was grinding into full swing.
Citing law enforcement, the Associated Press reported that a lone man had been strapped with a pipe bomb which had detonated inside a tunnel near 42nd Street and Eighth Avenue.
"One male suspect is in custody," the NYPD said in a Twitter advisory at 8:34 a.m. "No injuries other than suspect at this time. Avoid the area. Subways bypassing #PortAuthority and Times Square Stations. Info is preliminary."
In a conflicting report, the New York City Fire Department said that 4 non-life threatening injuries had been sustained in the incident.
New York City Mayor Bill de Blasio called the explosion "an attempted terrorist attack," the Washington Post reported.
Chelsea LaSalle, a commuter who was on the scene at the time of the incident, told Mic that the sound of the explosion immediately set off panic in the crowded station.
"I got to Port Authority and as I was walking down to the subway people were stampeding their way up the stairs and screaming 'get out get out,'" she said. "When we finally got out of Port Authority, there were dozens of cops, heavily geared and arms [sic] as well as fire trucks."
The NYC Office of Emergency Management told commuters to expect delays across the city in the wake of the incident.
Police are still investigating the exact cause of the explosion.
Dec. 11, 2017, 11:13 a.m.: This story has been updated.