The GOP tax bill is historically unpopular, and the rush to pass it could create major problems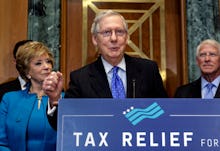 Congressional Republicans are working at a breakneck pace to pass their tax reform bill before the Christmas recess — even as polling shows the legislation is not only historically unpopular, but it could have unintended consequences that may lead to a number of problems for businesses and taxpayers.
As Republicans head back to Washington this week to try to meld the two differing tax reform bills passed in the House and Senate, a new USA Today/Suffolk University poll released Monday shows just 32% of voters support the plan.
That would make this plan the least popular piece of legislation passed in three decades, according to USA Today.
And in their effort to give President Donald Trump an actual legislative victory in his first year in office, Republicans could create a number of problematic loopholes in the tax code because of the rushed process.
For example, some business owners may face marginal tax rates of more than 100%, according to the Wall Street Journal — meaning they would pay more in tax than they are earning.
Other loopholes or sweeteners for the rich are also being injected into the bill. And with little time for Democrats and other groups to see the legislation before it is put up for a vote, those provisions could go unnoticed before Republicans vote it through — a far cry from Trump's promise to "drain the swamp."
Some last-minute changes to the Senate bill before it passed included tax breaks for oil and gas companies, as well as a provision meant to specifically help a small Michigan college that Education Secretary Betsy DeVos' family supports, according to the Washington Post.
Republicans are hell-bent on passing the plan, despite its unpopularity and the possibility of errors — including creating pathways to tax avoidance and rendering a popular tax break to incentivize research and development useless, according to Politico.
And the outcome of Tuesday's Alabama special election is only adding to Republicans' problems. It's possible that embattled Republican nominee Roy Moore could lose his race for the Senate seat, which would shrink the GOP's majority to just 51 seats, giving Republicans even less margin for error in passing their plan.
One Senate Republican, Sen. Bob Corker (R-Tenn.), voted against the Senate plan because it would add to the deficit. If Moore loses on Tuesday, and one more Senate Republican decides to vote against the combined plan, the bill would fail.