Here's a few good examples of how you should absolutely never sell plus-size tights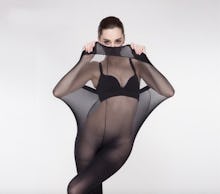 Let this be a lesson to all retailers and brands: Do not do this. Do not, under any circumstances, do this.
On Wish.com, an online retailer of discounted goods akin to Amazon, a number of plus-size tights are modeled by women who are not plus-size models. To show how wide these tights and leggings can stretch, the straight-sized models pose with their entire bodies inside the tights, looking as if they're Voguing within the tights.
As if they are trapped in the tights, looking for a way out.
For one pair, a woman puts both of her legs into one leg of the tights to show how large it can be.
It'd be funny if it wasn't also evidence of a problem already widespread in the industry. Often, the models we see modeling plus-size clothing aren't plus-size at all, but a size 6 or 8 and wearing padding. They do this because using women who are a size 6 or 8 makes it easier for brands to show off the current plus-size ideal, which is a woman with a thin waist, wide hips and a larger bust, also known as an hourglass figure.
This is just an extreme example of this problem, and one that isn't new either. Earlier this year, Amazon was criticized for similar pictures being used to sell plus-size leggings on its site, with a model showing both her legs in one leg of the leggings.
"What the hell are they thinking using a slim model with two legs in one side," Betsy Abel of Minnesota wrote on Facebook. "Talk about disrespectful and being in poor taste. Like oh, hey, in case you don't feel bad about needing a larger pair ... let's make asses of ourselves and show how two trimmer women could fit in these."
These Wish.com images have spurred a similar type of frustration — and astonishment — online.
Mic has reached out to Wish.com for comment, as the images on the site remain live, and will update when we hear back.