Competing polls suggest Alabama Senate race a toss-up headed into the election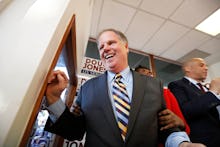 A spate of competing polls in Alabama's impending Senate special election were released Monday, which range from showing Democratic candidate Doug Jones with a 10-point lead over Republican Roy Moore, to Moore leading Jones by a comfortable nine-point margin.
The results suggest Tuesday's special election is a toss-up between the two candidates, with pollsters holding different ideas about who might turn out in a race that's been rocked by allegations of child molestation against Moore.
On Monday, Fox News dropped a poll showing Jones leading Moore, 50% to 40% — a result they attributed to higher Democratic enthusiasm.
"This appears to be a special, special election with blacks and young voters animated by a caustic Republican candidate and the chance of winning a statewide election with national implications, and at the same time some Republicans and many moderates are turned off by Moore, too," Chris Anderson, a Democratic pollster who runs the Fox News poll with GOP pollster Daron Shaw, said in Fox News' article on the survey.
A second poll released on Monday, by Emerson College, found Moore leading Jones 53% to 44%.
The competing surveys show just how volatile the election has been. They also suggest how challenging it is to poll the contest, given that Alabama rarely has competitive statewide general elections given its strong Republican bent, as well as the timing of what's been a bizarre special election right before the Christmas holiday.
In the run-up to the race, Jones has been working to boost black turnout in the state — which could help put him over the top.
Moore, on the other hand, has been noticeably absent as he fends off allegations that he molested a 14-year-old girl and pursued relationships with other teenage girls when he was in his 30s.
Overall, the RealClearPolitics polling average of the race shows Moore with a 2.5% lead heading into election day.