A running list of GOP senators who have floated investigating or expelling Roy Moore if he wins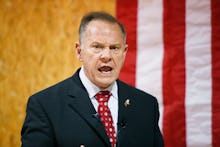 Republicans in the United States Senate are currently grappling with how to possibly receive Alabama Senate candidate and alleged sexual predator Roy Moore into their ranks — should he beat out Democratic candidate Doug Jones in Tuesday's special election.
Though many Republicans were quick to condemn Moore after a Washington Post report alleged that he had sexually assaulted and preyed on underage girls, many of Moore's potential future GOP colleagues have softened their stance since President Donald Trump endorsed the candidate and the Republican National Committee resumed funding for Moore's campaign on Dec. 4.
Still, some GOP senators are maintaining that Moore could face future challenges in the Senate if he wins. Though some have maintained that the Senate would be forced to seat Moore should he win, the Alabama politician could technically be expelled from the Senate with a two-thirds majority vote. Any challenge to Moore's Senate seat would likely begin with an ethics investigation into the allegations against him, which many Republican senators are saying will probably happen.
Here's a running list of Republican senators who have floated the possibility of Moore's Senate seat being challenged, either through an investigation or immediate expulsion, since the RNC resumed its funding of Moore's campaign.
Cory Gardner
Colorado Sen. Cory Gardner has taken the harshest stance against Moore among GOP senators. Though the RNC has resumed its funding of the candidate, Gardner has continued to withhold funding from Moore as head of the National Republican Senatorial Committee.
Gardner called for Moore's expulsion, should he win, in a statement posted to Twitter on Nov. 13, writing: "If [Moore] refuses to withdraw and wins, the Senate should vote to expel him, because he does not meet the moral and ethical requirements of the United States Senate."
The Colorado senator maintained this position after the RNC resumed its funding and Trump endorsed Moore.
"Roy Moore will never have the support of the senatorial committee. We will never endorse him. We won't support him," Gardner told the Weekly Standard on Thursday. "I won't let that happen. Nothing will change. I stand by my previous statement."
Richard Shelby
The senator holding Alabama's other Senate seat, Richard Shelby, has also come out against his potential future colleague. In an interview Sunday on CNN's State of the Union, Shelby revealed that he did not support or vote for Moore — preferring instead a write-in Republican candidate — and said that the U.S. Senate would have to wrestle with the allegations against Moore should he win.
"I believe whether you're a Republican, a Democrat, independent, whatever you are, that you will not put up with the conduct, the bad conduct, from a Democrat or a Republican, and that's gonna be part of what's going to happen in the future," Shelby said Sunday. "The Senate's gonna have to weigh, if Roy Moore wins, his fitness to serve in the U.S. Senate."
Mitch McConnell
As the Senate Majority Leader, Sen. Mitch McConnell has strongly suggested that an ethics investigation into Moore's behavior will occur if he wins.
"I had hoped earlier that [Moore] would withdraw as a candidate. That obviously is not going to happen," McConnell said Tuesday, according to Bloomberg.
"If he were to be elected I think he would immediately have an issue with the ethics committee which they would take up," McConnell added.
Susan Collins
In an interview Sunday on CBS's Face the Nation, Sen. Susan Collins of Maine said she was "disappointed" by the RNC's "mistake" of resuming its funding for Moore, and raised the possibility of the Senate having to grapple with the decision of whether or not to keep Moore in office.
"If the allegations are known prior to the election, which they weren't in the case of Al Franken, for example, then we have a very tough decision to make about whether it's our role as senators to overturn the will of the people," Collins said Sunday.
Tim Scott
In an interview Sunday on Meet the Press, Sen. Tim Scott of South Carolina echoed McConnell's comments by saying there would be an "immediate" investigation into Moore's behavior, should he win.
"Well, the Constitution requires us ... if he wins we have to seat him," Scott said Sunday. "Then there will immediately be an ethics investigation. We'll have a greater opportunity for us to look into all the issues, the allegations, and perhaps even talk with some of the folks who are witnesses. That will give us a clear picture."
"I've always said that so far, as far as I can tell, the allegations are significantly stronger than the denial," Scott said. "And I'm going to let my decision be made by the breadth of information and evidence that I'm able to review during that process."
Thom Tillis
Sen. Thom Tillis of North Carolina called for an ethics investigation into Moore in an interview with Buzzfeed on their Twitter morning show AM to DM.
"There's Supreme Court precedent to say that we really don't have the authority to deny him being seated. But we do have jurisdiction over members, and we use an ethics investigation and see what remedies come out of that," Tillis said on Dec. 7.
"I'm going to stay out of a race that I don't have a vote in," Tillis said. "And then as a member of a body that Mr. Moore might be admitted to, I'm going to try to get the facts to the point where we can take appropriate action."
John Thune
Sen. John Thune of South Dakota called the RNC's backing of Moore "unfortunate" in an interview with CBS News. Though the senator said he would prefer Moore to "step aside," Thune noted that an "ethics cloud" would await the Alabama senator if he's elected.
"I think the one thing I've said all along is if he comes to Washington, he will immediately be under an ethics cloud, probably an ethics investigation," Thune said. According to CBS, Thune then added "that the Senate Ethics Committee could recommend expulsion or censure."
John Kennedy
In an interview with CNN on Dec. 6, Louisiana Sen. John Kennedy said the "crimes" Moore allegedly committed make him "not qualified to be a United States senator," adding that it was "just a fact" that an ethics investigation would be opened against Moore if he wins.
"If Mr. Moore is elected, he will be seated. Under the law, he has to be," Kennedy said. "Then ... somebody's going to file an ethics complaint. That's just a fact. And then there's going to be a full-fledged investigation. People are going to be talked to under oath."
"We will get the facts, and then the Senate will get to vote," Kennedy said.
Lindsey Graham
South Carolina Sen. Lindsey Graham, who has said that he "doesn't know what winning looks like with Roy Moore" for Republicans, is supporting the idea of an ethics investigation into Moore's behavior, should he win.
"I've always been like, 'I don't think he should have run, I don't think he's a good candidate,'" Graham said about Moore, as quoted by the Washington Examiner on Dec. 6. "If he does get elected, I support the idea of going to the ethics committee. If there's a bipartisan finding that he's a child molester, it'd be a defining moment in the history of the Senate."
In a separate interview with ABC News, the South Carolina senator added that Moore "deserves due process," as he has denied the allegations against him — and noted that such proceedings would occur, should Moore ascend to the Senate.
"If he gets elected, he'll get due process. If he wants to resign, that's up to him. I want him to step aside. I wish he were not our nominee. I think if he wins, he's the gift that keeps on giving for Democrats," Graham said.
Jeff Flake
Arizona Sen. Jeff Flake has been an outspoken critic of Moore, even going so far as to tweet a donation to his opponent Jones with the message, "Country over party."
In an interview following Al Franken's resignation from the Senate, Flake acknowledged that an investigation into Moore's behavior would likely take place, should he be elected.
"The Ethics Committee won't be looking at Al Franken now, but if Roy Moore is elected, leadership has already said they will be looking at Roy," Flake said.
"I hope he's not elected. I'm not happy that the RNC is backing him and I think we all ought to be very vocal about it. This is not our best foot forward with Roy Moore and it will have, I think, long-term damage for the party and our brand if we do so," Flake said.