Mary Norwood denies she is a Republican. Her behavior since Atlanta's election is hurting her case.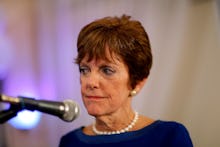 ATLANTA — The signs were hard to miss while driving around the city these past two months: "Mary Norwood," they read. "A mayor for all Atlanta."
They adorned front lawns and busy street corners from the 65-year-old city councilwoman's native Buckhead neighborhood to tony Sandy Springs to the black churches of Collier Heights. They seemed intended to project a unified future for a city whose politics have grown increasingly polarized.
Yet where Norwood's rhetoric has advocated unity across Atlanta's racial lines, her tactics tell a different story.
Local residents on Monday expect an official tally in the Dec. 5 mayoral runoff election that pitted Norwood against fellow city councilwoman Keisha Lance Bottoms. In unofficial returns, Bottoms appeared poised to win the race by a mere 759 votes (though a more recent count has increased that margin to more than 2,200). Norwood, who is white, has responded by taking a page out of the national Republican playbook, alleging improprieties and potential crimes in her black opponent's victory.
Hinting she would formally request a recount once all counties had certified their vote totals, Norwood suggested voter intimidation played a role in her loss.
"Many voters have come forward to describe the administrative problems and voter intimidation that occurred on Election Day," Norwood tweeted Thursday. "If you experienced a problem when you cast your vote, contact the secretary of state using their Stop Voter Fraud website."
This isn't the first time Norwood has made such a claim. The Atlanta Journal-Constitution reported that Norwood accused current Atlanta Mayor Kasim Reed, who is black, of "bussing" ineligible voters to the polls to support him in the 2009 mayoral runoff election — a race Norwood also lost. Georgia's secretary of state has opened investigations into three alleged cases of voter fraud in the Dec. 5 runoff. Even if these are verified, Norwood will still lose.
Claims of voter intimidation and fraud have been hallmarks of modern American politics since at least 2008, when former President Barack Obama won his first election. A since-dismissed intimidation case against two members of the New Black Panther Party in Philadelphia that year became a rallying point for Republicans, who have poured years of resources into stifling the voting power of black people, young people and poor people under the guise of combating voting-related crimes.
Norwood, a dubiously self-proclaimed independent progressive, seems to have embraced this tactic, lending credence to her opponents' accusations that she is a closeted Republican. President Donald Trump continues to make unsubstantiated claims about voter fraud since losing the popular vote to Hillary Clinton in 2016.
"People that have died 10 years ago are still voting," Trump claimed at a rally in Green Bay, Wisconsin, in October 2016.
But a more insidious kind of politics underlies Norwood's allegations. During the pre-runoff mayoral debate on Nov. 28, Bottoms decried Norwood's invocation of fraud in the 2009 election— which would also have a negligible impact on the 2017 race's outcome, if found — as "[racially] coded language."
It's hard to deny the truth in this. Informing Republicans' claims of fraud is an impulse to depict their opponents — usually Democratic candidates like Bottoms, Reed, Obama and Clinton — as illegitimate. It's no coincidence these candidates are often black or supported by large swaths of black voters, either. White fear around black political power has defined U.S. politics for decades. W.E.B. DuBois distilled this impulse succinctly in 1895.
"If there was one thing South Carolina feared more than bad Negro government, it was good Negro government," DuBois wrote, referring to the white establishment's attempts to undermine the state's black politicians during Reconstruction. Whites were anxious that black competence in government would undermine white supremacy. As a result, they routinely tried to paint black electeds as amoral, inept and corrupt.
"If there was one thing South Carolina feared more than bad Negro government, it was good Negro government." — W.E.B. DuBois
Atlanta has not had a white mayor since Maynard Jackson was elected in 1973. By many metrics, and despite the same staggering income inequality that marks many American cities, the so-called black mecca of the South has thrived under black leadership for decades. The Dec. 5 election was a referendum on a rapidly gentrifying — and whitening — city and its shifting political priorities. If Atlanta doesn't have a white mayor after Norwood's proposed recount, it likely will sometime in the near future.
So it's notable that a white candidate like Norwood, who has tried to endear herself to black voters in this majority-black metropolis, is using a race-baiting GOP tactic like voter fraud allegations to contest her loss. The election was starkly divided along racial lines already. The optics of inferring that a black political victory was illegitimate — without presenting hard evidence, no less — echoes decades of white anxiety around "good Negro government" shrouded in outrage over purported "bad Negro government."
Perhaps Norwood is betting a white majority will reward her for this behavior some day in the future, should that demographic shift come to pass. Or perhaps she is betting on the demise of black political dominance in Atlanta. Sadly for her, it doesn't look like today is that day.