4 more women accuse celebrity chef Johnny Iuzzini of sexual harassment and abuse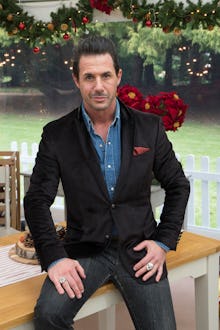 Four new sources have come forward with stories of sexual harassment and abusive behavior by celebrity pastry chef Johnny Iuzzini, following a Mic story that detailed the accounts of four former employees who alleged sexual harassment and abuse by Iuzzini between 2009 and 2011.
Two of the women, who worked under or with Iuzzini at New York fine-dining institution Jean-Georges, shared new allegations of harassment, including incidents they said management was aware of as early as 2004. The two other sources claimed that Iuzzini abused his power and influence over female subordinates and associates.
When presented with the new allegations, Iuzzini said in a statement that the accounts from these sources are "simply untrue."
"I am truly disheartened at the thought of anyone being hurt from my past actions," he said after reviewing the allegations in an email from Mic. "However, there is a difference between accepting responsibility for my immaturity and allowing false claims and accusations to be reported."
Iuzzini is a judge on The Great American Baking Show, which premiered Thursday on ABC. At press time, ABC had not responded to multiple requests to comment about his future on the show. On Monday morning, Eater reported that chef Mario Batali has stepped down from his restaurant group after four women accused him of sexual misconduct. An ABC spokesperson told Eater that the company has asked Batali, a host of The Chew, to step down while they "review the allegations." Batali's show is filmed multiple times a week in front of an audience, while The Great American Baking Show was filmed earlier this year.
Two sources told Mic that management at Jean-Georges, where Iuzzini worked from 2002 to 2011, was aware of some allegations against Iuzzini as early as 2004. Mic obtained and reviewed documentation, including reports one source filed to management after she alleges she was physically threatened by Iuzzini in 2010 and a lawsuit filed against the restaurant group that alleges an adult performer was hired for an after-hours event at the restaurant in 2004.
"We take issues of employee welfare very seriously and have worked hard to make sure employees have a safe environment to work in," a Jean-Georges spokesperson said in an email. "However, we cannot comment about a current or former employee matter — particularly one more than 13 years ago."
In the previous story, Mic reported an incident where two witnesses said Iuzzini threw an empty liquid nitrogen canister at a pastry chef. In a phone interview with the pastry chef — who was granted anonymity for privacy concerns — following the publication of that article, she said that Iuzzini did not throw a canister at her. Instead, she said, he had raised a KitchenAid bowl at her threateningly, as if to throw it at her, but stopped short of doing so. She reported the event, which she said occurred on May 28, 2010, to management shortly after it happened.
"I'm not going to accuse Johnny of things he didn't do," said the chef, who reported to Iuzzini. "But he lunged at me. He was in my face, to the point where I felt threatened. It's one thing to be yelled at. It's another to see someone's eyes and fear that they're going to strike you." She further clarified why witness accounts may have differed: Iuzzini's back was to the door, she said, potentially obscuring his hand from view. The pastry kitchen, she added, is separate from the main kitchen and "not like a giant glass fishbowl where you can see everything happening." Iuzzini was also screaming about liquid nitrogen during the incident, she said; he was angry she'd forgotten to use it while making ice cream.
The woman said that Philippe Vongerichten, Jean-Georges Vongerichten's brother and at that time the restaurant's general manager, witnessed Iuzzini's outburst from the hallway but failed to intervene or ask her directly to file a complaint. Nonetheless, she tendered her resignation and submitted to management a detailed report citing numerous allegations against Iuzzini a few days later. Mic has reviewed these documents, which confirm the date and nature of the incident, which occurred more than a year before Iuzzini's departure from Jean-Georges.
Another woman, who served as hostess and reservationist at Jean-Georges from 2003 to 2005, said she and a friend attended an after-hours party at the restaurant. She was granted anonymity for privacy concerns. Both the hostess and a friend, whom Mic also interviewed to corroborate her account, said the party was a going-away celebration for former chef de cuisine Tony DiSalvo, who left the restaurant in 2004. At that party, both women said, a stripper put on a performance in the main dining room that made several attendees uncomfortable; they both added it was common knowledge among staff that Iuzzini had arranged the performance.
"She squeezed an egg out of her crotch, and it broke on the dining room floor, and it stained the floor," the first woman recalled, describing the incident as disgusting and wildly inappropriate. "That is probably the most vivid memory I have of working there," she said. After the display, the woman said, she and several other attendees took refuge in Nougatine, Jean-Georges' adjoining sister restaurant.
The first woman said she believed Iuzzini "got in a lot of trouble" for the incident. She added that she'd noticed that Iuzzini was absent from the restaurant for some time after the party. "He just thought he could do whatever he wanted and not get in trouble," she said. She said that the Vongerichtens were not in attendance at the party.
A sexual harassment lawsuit filed in early 2007 by former waiter Joseph Bassani against Jean-Georges Vongerichten and his namesake management group seems to confirm key details of the party, including that Iuzzini organized the performance and that management was notified of the incident within a week of the party.
The suit references a going-away party for DiSalvo thrown on or about September 18, 2004. In the suit, Bassani says that a woman, identified in the suit as a prostitute, "entered the dining room and began to perform explicit sexual acts on herself and with employees." When she asked for a volunteer, the lawsuit states, Iuzzini pointed at Bassani. "The prostitute, who was naked, charged at Bassani, pushed him onto the top of one of the dining room tables, straddled him, and began to gyrate her genitals within inches of his face," according to court documents Mic reviewed. The suit appears to have been settled out of court in early 2008; terms of the settlement were not disclosed.
In response to Mic's first article, Hannah Selinger, a writer, shared her own experience with Iuzzini on Twitter.
Mic spoke to Selinger, who elaborated on her story in a phone interview. In 2007, Selinger worked briefly at Jean-Georges as a sommelier. While she was working there, she said, she had a consensual romantic encounter with Iuzzini at his apartment. In the middle of the encounter, she said, Iuzzini pulled out a video recording device without her consent. Selinger said she was partially undressed at the time.
"He definitely did it without asking," she said. "It's 5 a.m. and you've had a couple drinks, and you're like, wait, what just happened?" When she objected to the recording, she said he told her, "Well, you know, if you don't want your face in it, you can put a pillowcase over your head." Selinger said that after she repeated her objections, Iuzzini appeared to stop filming, "but he got very angry."
Selinger's time at Jean-Georges was a two-week "stage" — an unpaid position in which a chef briefly works in another chef's kitchen to learn new techniques and cuisines — that she described as an audition for a sommelier position at another restaurant in the Jean-Georges group, Perry Street. When her two weeks were up, Selinger was not offered the position.
The incident with Iuzzini has left Selinger with concerns. "I hope there's no content of me naked somewhere on the internet," she said. But also, she said, she wonders if her career stalled because she didn't do what Iuzzini asked her to. Selinger now works as a freelance writer and certified sommelier in East Hampton, New York.
In the spring of 2010, a female pastry chef and food stylist who'd briefly worked under Iuzzini at Jean-Georges the year prior reached out to Iuzzini over text message, she told Mic in a phone interview. She requested anonymity because she still works in the industry. The first season of the Top Chef spinoff show Top Chef: Just Desserts had just been announced, and since Iuzzini was a judge on the show, she wondered if the show had food styling work opportunities. She said that Iuzzini texted her back amenably, adding, "Why don't we get together and talk about your career?" The woman said she repeatedly suggested a public meet-up over coffee during daytime hours, but Iuzzini countered that she come to his apartment for drinks at night. The woman received Iuzzini's final text messages in the presence of a friend, who confirmed to Mic that he'd seen the texts and had been told about the full exchange at the time.
"I'm like, 'Well, jeez — you're living up to that bad boy reputation.' I was trying to make light of it," the woman said. "And then he very blatantly put it out there. He said, 'This isn't high school anymore, sweetie. I'm not helping you for free.'" When the woman questioned what Iuzzini meant by "for free," she said he responded, "When you want to be a real woman, then give me a call." She did not end up meeting with Iuzzini or working on Top Chef: Just Desserts.
If you have a tip to share regarding the restaurant industry, please send an email to tips@mic.com. See Mic's confidential tips page for more information.