Experts weigh in on the Port Authority Bus Terminal explosion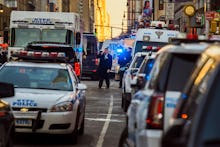 At around 7:30 a.m. on Monday morning, just as New York City's transit hubs were grinding to life for the day's commute, an explosive device was detonated somewhere in the subway tunnels beneath Port Authority Bus Terminal.
The suspected attacker, whom multiple reports have identified as 27-year-old Akayed Ullah, was hospitalized in the aftermath of the blast for severe lacerations and burn marks across his chest, along with at least four civilians who suffered low grade injuries ranging from headaches to ringing ears.
"When we hear of an attack in the subways, it's incredibly unsettling," New York City Mayor Bill de Blasio told reporters at a press conference later in the day. "And let's also be clear, this was an attempted terrorist attack. Thank God the perpetrator did not achieve his ultimate goals."
But despite the specter of those same ominous "ultimate goals" that have undoubtedly fueled other attackers who have targeted New York City in recent months, Monday's attack was different from the others in one critical way: the apparatus was strapped to the suspect's chest when it exploded prematurely, according to police.
While it's too early to know whether Monday's incident was a botched suicide bombing or if the suspect had intended to plant the pipe bomb somewhere before detonating it, experts say that attacks like Monday's are historically atypical in the United States — and might actually be an indication of the waning influence of radical groups like the Islamic State.
"We've not seen a successful suicide bombing — or even one attempted in this manner"
New York has been the target of several lone wolf attackers in recent months, including Sayfullo Saipov, the man accused of mowing down Tribeca pedestrians in a rented Home Depot van on Halloween, and Ahmad Rahimi, the so-called "Chelsea bomber" who was recently found guilty of planting pipe bombs in Manhattan's Chelsea neighborhood as well as in several New Jersey locations in 2016.
"The pace is quickening, as we have been indicating that it would," former New York Police Department Commissioner Bill Bratton told MSNBC in response to Monday's attack. "New York continues to remain the focus of interest. … That is something that we can anticipate. These attacks are going to increase. That's the reality."
But according to Stephen Tankel, an assistant professor of terrorism at American University and a non-resident senior fellow at the Center for New American Security, "We've not seen a successful suicide bombing [on U.S. soil] — or even one attempted in this manner."
Tankel said that there are other types of suicide terrorism, however, in which the perpetrators use weapons other than bombs, that are far more common.
"For example, Nidal Hasan, the Fort Hood shooter, was not killed but certainly put himself in a position where he could have been," he said. "The [Pulse nightclub] shooting in Florida — these are not people who died by their own hand, but they put themselves in situations where they could be killed."
Joe Young, an associate professor in the school of public affairs at American University, echoed Tankel's comments, telling Mic in a phone interview that attacks using strapped devices are "usually not the way domestic extremists have operated [in the U.S.], even ones that are inspired by outside groups."
"Folks who go in with that idea that they're going to shoot until they're killed, that's the more common style, at least in the U.S., and I don't know if that's because of a prohibition on suicide or that generally people see that as culturally a less viable option," Young said, adding that suicide bombings are much more common in the Middle East or even in Europe.
Though no terror group had claimed responsibility for the attack by Monday afternoon, Bratton said on MSNBC that his police had tipped him off to the fact that the suspected "was supposedly setting the device off in the name of ISIS."
Perhaps counterintuitively, Young said, the uncoordinated, lone wolf nature of Monday's attack is actually good news, because it signifies that the influence of ISIS and its so-called "caliphate" is waning.
"If they were consolidating and creating a state, we probably wouldn't see these kinds of attacks, but they've sorted of shifted their strategy to these low-level, stay-at-home-where-you-are and attack instead of come to Syria and join the caliphate," he said.
"I know that is probably not a lot of solace to people who are experiencing these attacks, but what it does mean is that I think we would expect a shift in tactics and we probably will see more of these kinds of low-level individuals willing to do these things because those folks, in another time, might have been headed to Syria," Young said.